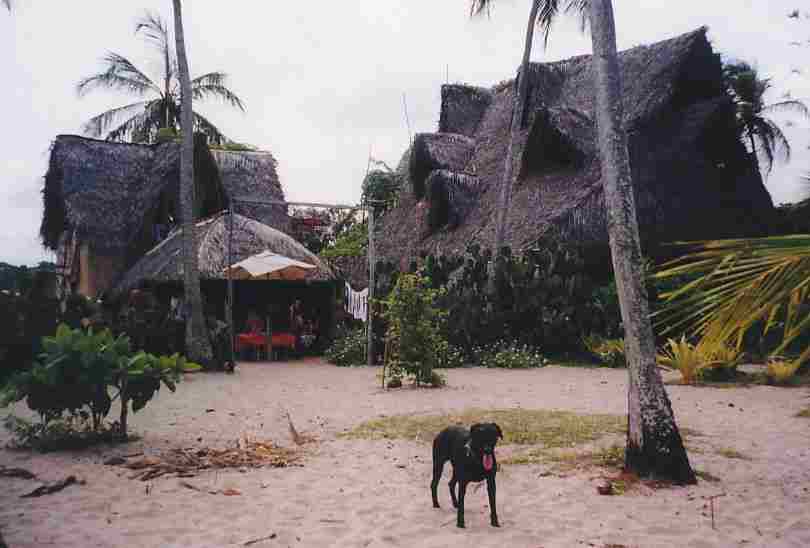 "It was in that hippie hut that Janis Joplin lived."
Arembepe is a hippie town that is about 30 km from Salvador, to the north. It is possible to arrive there by Linha Verde (Green Line road), a very good highway that connects Salvador to Aracajú.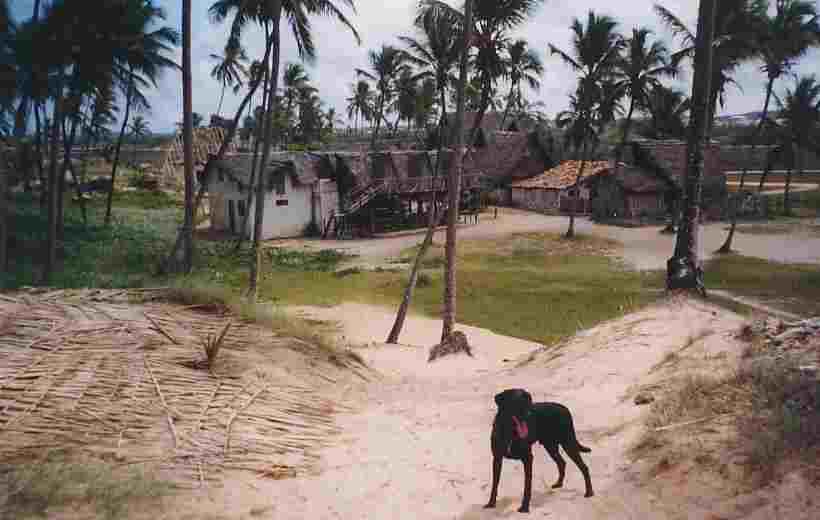 "There is plenty space between the huts... "
That place became nationally well known in the seventies, when the first hippie community of Brazil grew there. Several rustic huts are dispersed by an area enclosed by the Capivara river pond and by the natural pools formed by the reefs of the beach.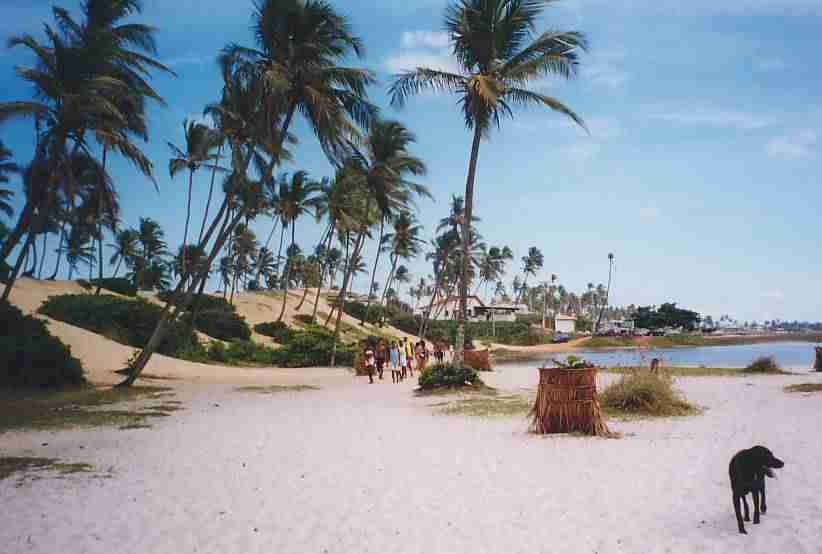 "The town is between the sea and a pond."
The huts are rustic, but very good. They are built with wood and straw, doesn't have electric power or any comfort of the modern life. But who live there, don't really care to it; They just want peace and natural beauty, things they surely have a lot.There is no car traffic there, and the access to the town is on foot. Maybe for that the place is so well conserved.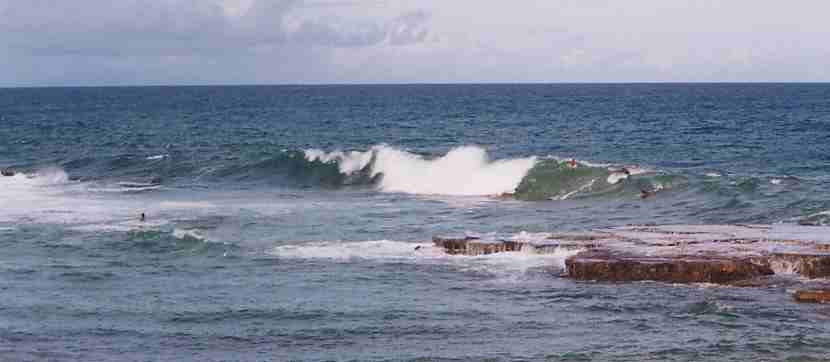 "You can find several natural swimming pools."
To the south of the town you'll find the Tamar Project (for marine turtles protection) exists with enclosed areas to protect the eggs of the sea turtles, because there is spawning an area of.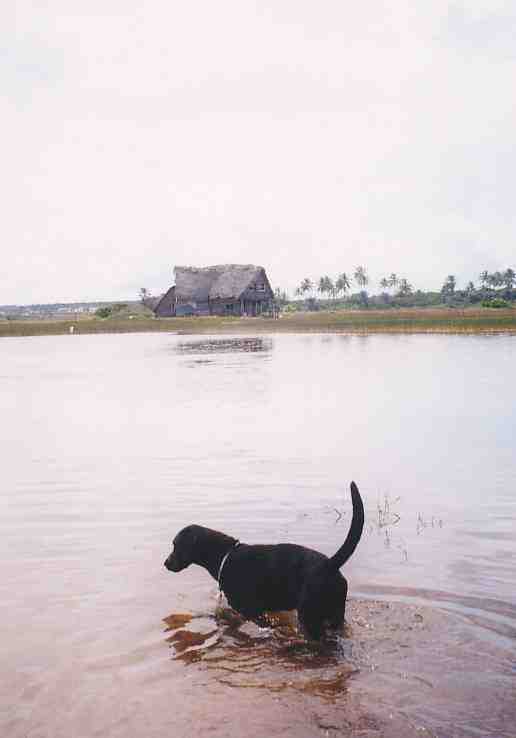 "After the beach, a fresh water shower... "
It is not necessary to be hippie and to stand discomforts if you want to travel to Arembepe. Towards the south you'll find the fishermen village, where it is possible to stay at comfortable lodgings and have nice meals.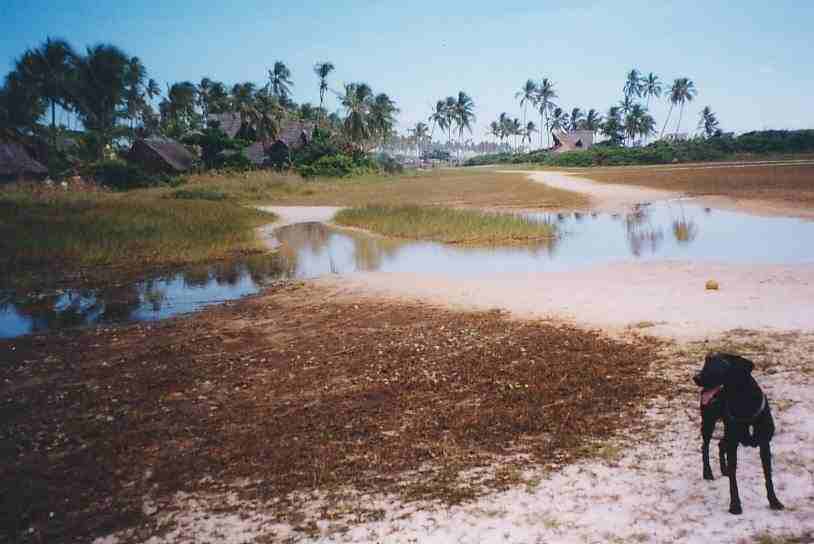 "What a beautiful place! "
Tips by GUSTAVO VIVACQUA
1. Take your surfboard. The beaches on the north of Arembepe have better waves. About 15km to the north you'll find a place called Scar Reef that is inside someone's farm area.
2. If you like hippie craft, that is the place.
3. There is a camp, and it is also possible to camp in the hippie town, if you make friends with the very friendly inhabitants. However, keep an eye on your stuff, cause things are too messy in the town.
4. Every now and then Hippie Festivals take place, with music groups. There is no right date for it to happen, for that, if you're lucky, you may watch one.
5. Eating a fresh fish is great, don't forget that there also has a fishermen village.
6. "If you keen on trying different drinks, it is worthwhile to take some sips of white rum with local herbs, that the residents of there say to be hallucinogenic and aphrodisiac. " tip from Rodrigo Papov São José dos Pinhais - PR
7. "I would like to inform that the hut shown in the site could never be Janis Joplin's, because it is not that old. The highway that conects Salvador to Arembepe/BA is not the Green Line but Estrada do Coco (Coconut Highway), because Green Line begins in the end of the Coconut Highway, more precisely in Praia do Forte (Fort's Beach). The distance between Salvador and Arembepe/BA is 50 km. It is also adviseable to inform that the hippie Village of Arembepe, not only the remnant of the time of Woodstock (seventies), nowadays it is the only of the world!!! You should show other pictures of the beaches, mainly of the beaches of Piruí, wonderful... My name is Luciana Teodoro, I am 26 years old and resided in Arembepe in 1990 and I was there during the whole year of 2000, know some details about the city. I hope the above information are useful ." tip from Luciana Teodoro
CLICK HERE to send your tip
CLICK HERE TO SEE OTHER BRAZILIAN DESTINATIONS