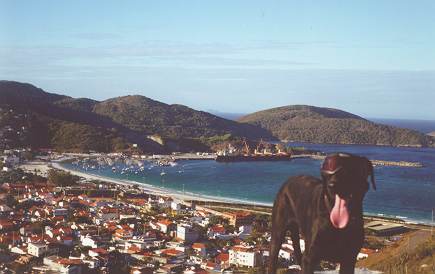 "Arraial do Cabo is is so full of great views"
Arraial do Cabo was formed by the connection of old islands by the action of the winds and of the sea currents, along thousands of years. Arraial is a fishermen town and is called by their inhabitants "Atlantic Paradise" because of its beautiful landscapes: dunes, sandbanks, lagoons, beaches and coast. The proximity to Rio de Janeiro, (160 Km) makes tourism become inevitable.
Praia do Pontal (Cliff Beach)- it is the first beach to the left of who arrives in the city. It is between the Praia do Foguete (Rocket Beach) (Cabo Frio) and Morro do Miranda (Miranda Hill), 4 km from downtown. It is a 700m wide beach, good for net fishing.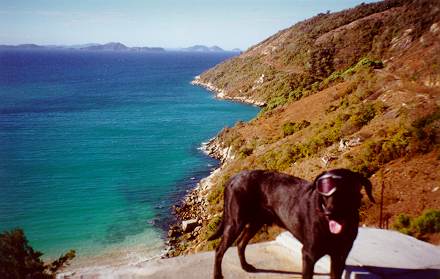 "The water is very clear."
Prainha (Little Beach)- it is a 1Km wide beach, about 800m from downtown. With kiosks and low buildings, it is a postcard of the city. By a trail, to its right, you can go to the Praia da Graçainha, only 15m wide, whose strip of sand only appears in the low tide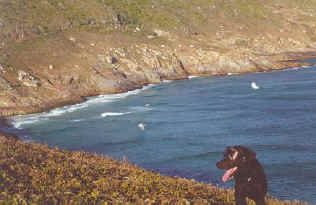 "Great waves in Praia Brava (Rough Beach)."
Praia Grande (Big beach) - it is in Av. Projetada Beira Mar (Projected Coaster Avenue), 1km away from downtown. It is an oceanic beach of 1.300m and there are kiosks and urbanized area in its left side.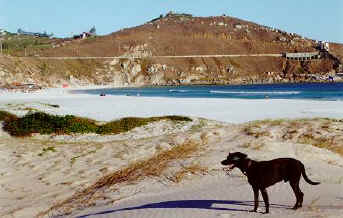 Praia dos Anjos (Angels Beach) - Located in Enseada dos Anjos(Angels Bay), its water is clear and warm. In its left side you find the fishermen marina and Porto do Forno(Oven Port). To the right, Pontal do Atalaia hill.
Praia do Forno(Oven Beach) - it is in Enseada dos Anjos and can be accessed by walking along a trail or by the sea. It is to the left side of Praia dos Anjos and about 1.5 km far from downtown. With 500m of extension, there you find the ruins of Fortaleza do Marisco(Shellfish fortress), where oysters and shellfishes are cultivated and sold there..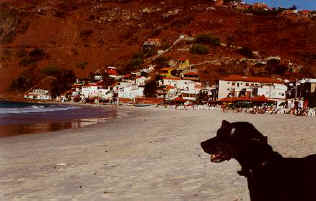 "I went for a walk in Prainha."
Prainhas(Little beaches) - they are in Enseada do Boqueirão(Big mouth Bay) next to Pontal do Atalaia. They are two small beaches, separated by rocks, that, together, may be 1km wide.
Praia Brava - it is the surfers' favorite beach. It is about 2 Km downtown, outside of Pontal do Atalaia.
Praia de Massambaba(Massambaba Beach) - oceanic Beach with 25 Km of extension, it is a continuation of the Praia Grande.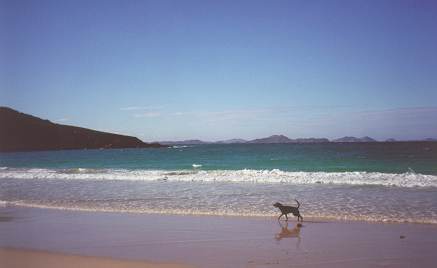 Praia do Sudoeste (Southwest Beach) - the salt beds stand out around the beach, and Lagoa de Araruam(Araruama Lagoon), besides the forest oaks in the border.
Gruta Azul (Blue Cave) - it can be reached by boat to admire its inside beauty.
Lighthouse - it is at the Island of Cabo Frio, and it is an obligatory visit. From there, the panoramic view of the city and the beauty of the beaches.
Lagoa Azul(Blue Lagoon)- beautiful and cozy place, with clear waters, is an extension of Lagoa de Araruama. It is only 10 minutes from Arraial downtown. Lagoa Azul is one of the favorite points for the tourists that visit Arraial do Cabo.
"The sand is bright white."
Ilha do Francês(French's Island) - obligatory point for the diving apprentices.
Tips by GUSTAVO VIVACQUA
1. If you have diving equipment, take it. It is really great to dive there.
2. Do a boat sail, you won't really know Arraial do Cabo if stay limited to the continent.
3. If you are not a diver, do your first with the aqualung in some local diving agency, it's worthwhile.
4. There are good waves there, so take your surf board. And also take special clothing for cold waters, you'll need it there.
5. If have the time, go to Buzios. It's near and you'll like it.
6. "The boat sail to Gruta Azul is essential. The water is really blue and the boat enters the cave. If you're lucky, you'll see dolphins accompanying the boat. Then a dive in Praia do Farol (Lighthouse Beach), that was elected by 3 consecutive times as the best beach of Brazil in water and sand quality . Really clean. And concluding, eat a fried fish fresh made in the bar restaurant in front of Praia do Forno. A real paradise! " tip from José Ricardo Pinto
7. "The best points for diving are - Prainha, to the left, nearby the stones (turtles, octopi, crawfishes, and ornamental fishes). Praia do Forno- to the right, corals, ornamental fishes. For hunting - Prainha, Forno and Anjos (tainhotas, groupers, robalos, swordfishes). " tip from Marina Vasconcello
8."13."The best thing we did in Buzios was a kayak trip! We also did a fantastic one in Arraial do Cabo. Try www.kayakbuzios.com.br " tip from Joe
CLICK HERE to send your tip
CLICK HERE TO SEE OTHER BRAZILIAN DESTINATIONS