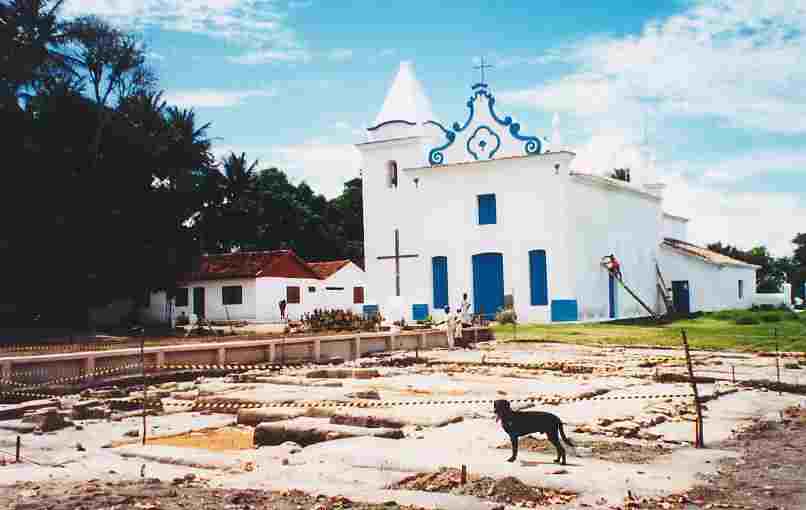 "There is an archeological excavation going on here"
It was here that, in 1500, where Cabral stepped for the first time in Brazil. Seeking an appropriate place to moor of his caravel, he found the Cabrália bay and anchored there.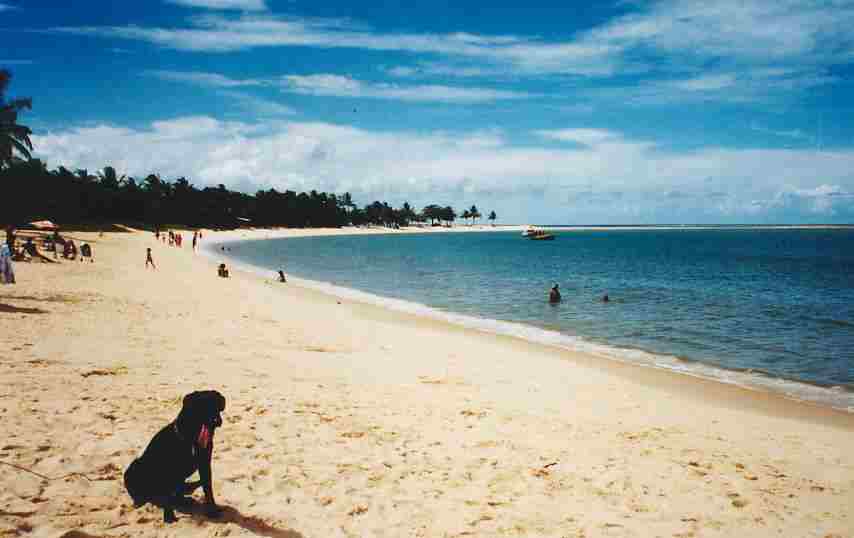 As soon as he disembarked, he was received by the local inhabitants, the Aymoré Indians. After that first meeting, he started to seek a place to put a cross. That place was Ilhéu de Cora Vermelha and that cross is one of the main tourist points of the city now.
In April 26 of that year, the friar Henrique Soares celebrated the first mass in Brazil, in front of that cross.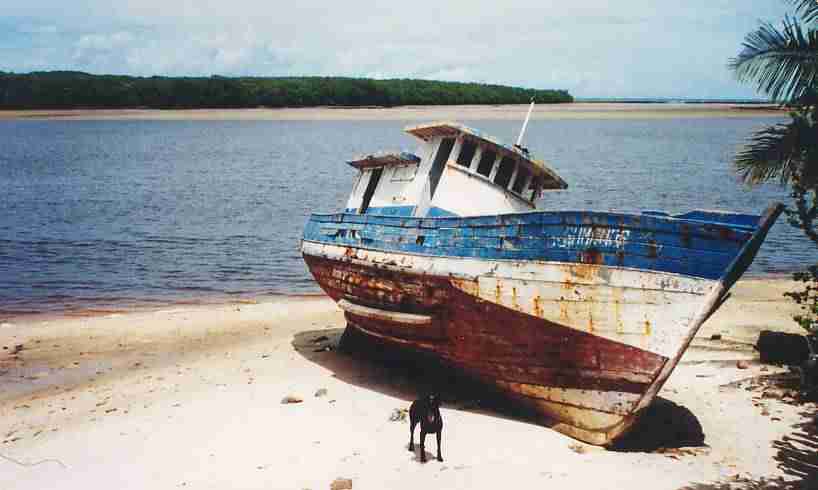 "I think the guy "parked" his boat in the wrong place."
Besides the 35 km of beaches, the main tourist points of the area are:
PRAIA DE ARAKAKAÍ (ARAKAKAÍ BEACH) - it is close to downtown and one can find some people surfing and windsurfing.
PRAIA DOS LENÇÓIS (BEACH OF THE SHEETS) - deep waters and rough sea.
PRAIA DE COROA VERMELHA (RED CROWN BEACH) - Pero Vaz de Caminha really liked this beach… (it is where that cross is). It has calm waters and largely frequented. You can find some Pataxós crafts there.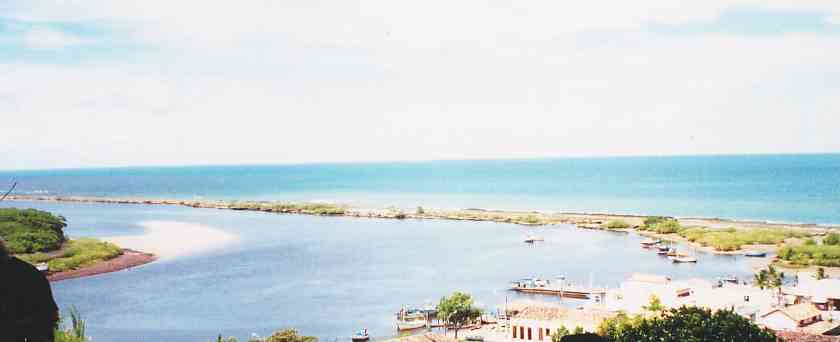 "View from the high area of the city."
ILHÉU DE COROA VERMELHA (INSULAR OF RED CROWN) - it is 7 km from downtown. This is where Cabral disembarked for the first time.
RIO MUTARÍ (MUTARÍ RIVER) - it flows out next to the Red Crown. It was in that river where Cabral refilled his ship with fresh water.
CIDADE HISTÓRICA (HISTORICAL DOWNTOWN) - it is in the high area of the city and it gas a great view of the place.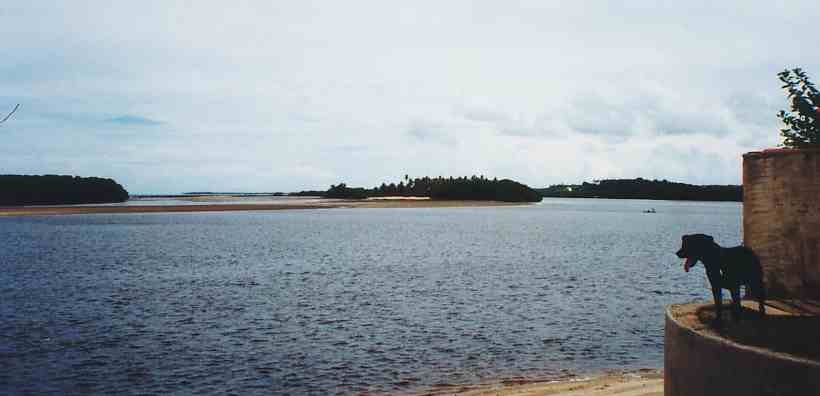 "I'm going to dive a bit."
COROA ALTA (OPEN SEA CROWN) - reefs located at 50 minutes of distance from the beach towards open sea. That course is made by sailing boats. During the low tide some natural swimming pools are formed. Good for diving and swimming.
ARARIPE - Reefs close to Santo Antônio. It is good for diving also.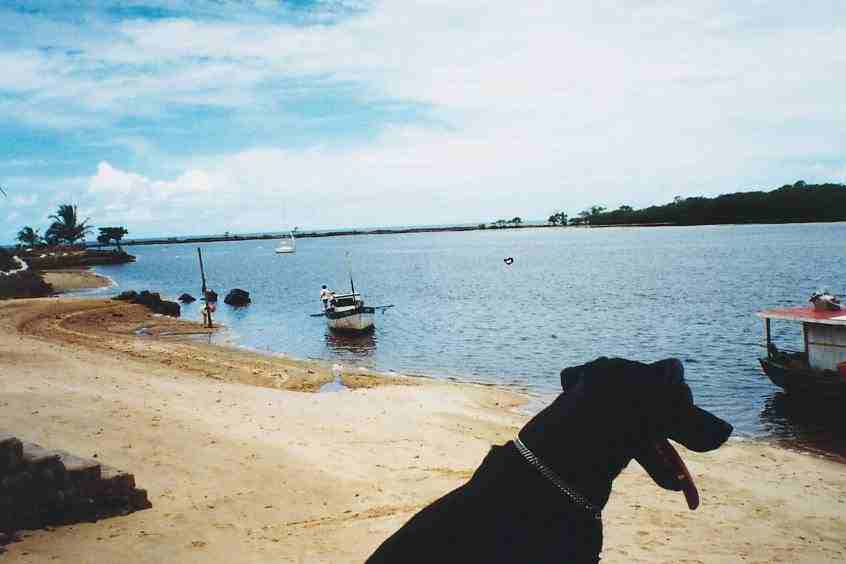 "The boats anchor very close to the beach."
PRAIA DE SANTO ANDRÉ (SANTO ANDRÉ BEACH) - it presents fresh water in the low tide and salty in the high. Good place to sail.
PRAIA DE SANTO ANTÔNIO (SANTO ANTÔNIO BEACH) - Santo Antônio river flows out into this beach.
PRAIA DO GUAIÚ (GUAIÚ BEACH) - deserted beach, with sea. Good for who wants to avoid the crowd.
Tips by GUSTAVO VIVACQUA
1. The most festive nearby places are Porto Seguro and Arraial.
2. Porto Seguro nightlife is great. The kiosks at the beaches of Barramares are good options.
3. Also visit the area of Santo André that is very near.
4. Don't miss making a boat trip to get to know Coroa Alta.
5. "In Red Crown beach (close to the wood sign that indicates the place) there is a lady that sells an incredible acarajé. It is worthwhile to savor it, "hot" or "cold". It is with no doubt one of the best acarajés in Bahia." tip from Ellen Peixoto.
CLICK HERE to send your tip
CLICK HERE TO SEE OTHER BRAZILIAN DESTINATIONS