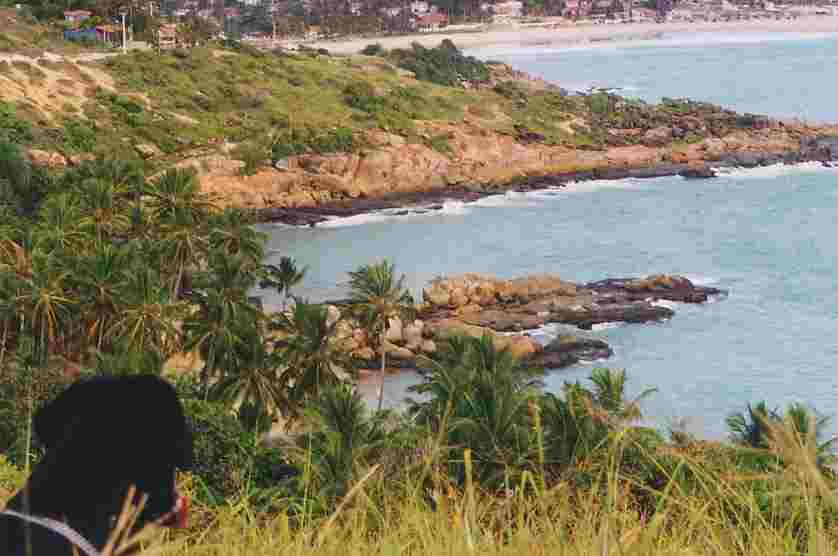 That nice beach of the coast of Pernambuco, is 40 km to the south of Recife. The place is located in the Municipal district of Cabo de Santo Agostinho (Santo Agostinho Cape) and the access is made by BR101 highway and, after, by PE60 highway. There are many roadsigns and, despite the dirt road, the access is easy.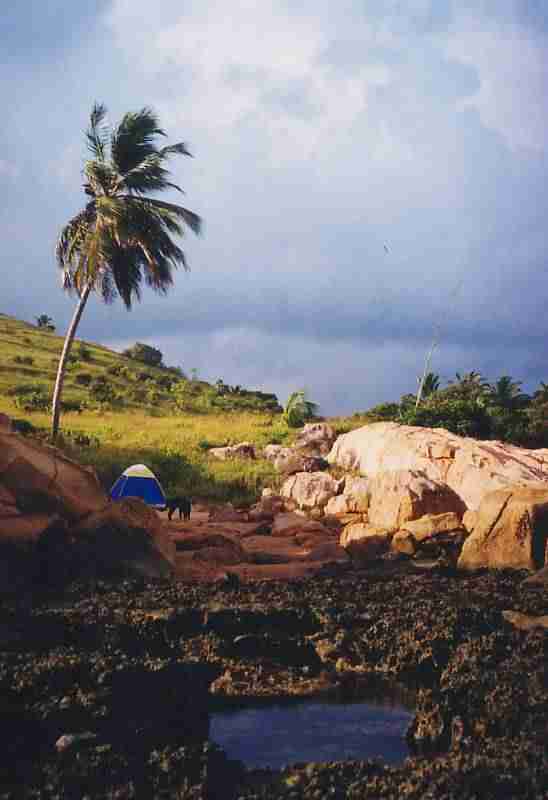 "I camped "on the rocks"... "
Calhetas in Tupi means Small Bay, a name that tells it all. There is a legend that tells that the first foreign to arrive there area was a guy called Vicente Yanez Pinzón and other Spaniards in January 26, 1500.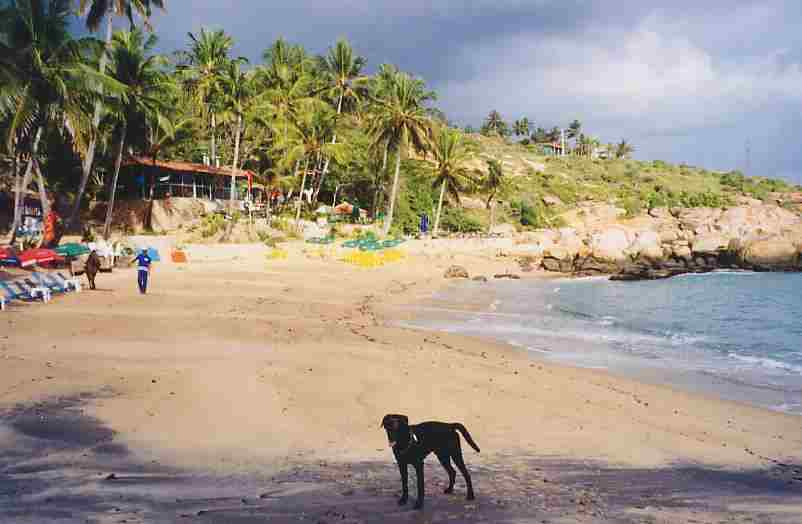 "The beach presents a good infrastructure."
That guy wrote in a tree that the place would be called Cabo de Santa Maria de la Consolación (Santa Maria de la Consolación Cape). But in 1501 the potuguese arrived and it was decided that the name had to be Portuguese: Cabo de Santo Agostinho.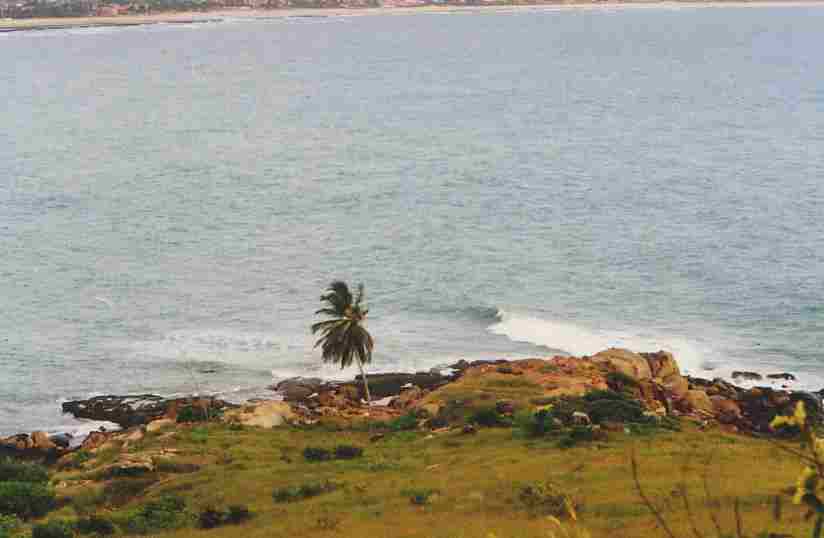 "My tent is the yellow dot below that coconut tree... "
500 years later the place continues beautiful and it still was not destroyed by the visitors. There you find Bar do Artur (Artur's Bar), a place with plenty infrastructure where one can eat a lot of seafood and drink a beer under coconut trees shades and in the kiosks, where the nice owner likes to expose his pictures beside famous people.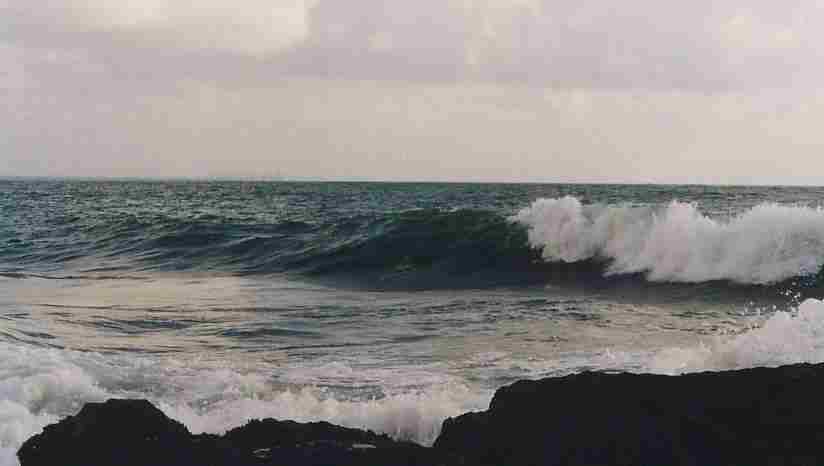 "... in front of nice waves... "
For who likes to tan a beautiful look at night it is possible to camp gratuitously in the stones of the beach. The place is very beautiful, but he/she doesn't offer any infrastructure besides a coconut tree shadow.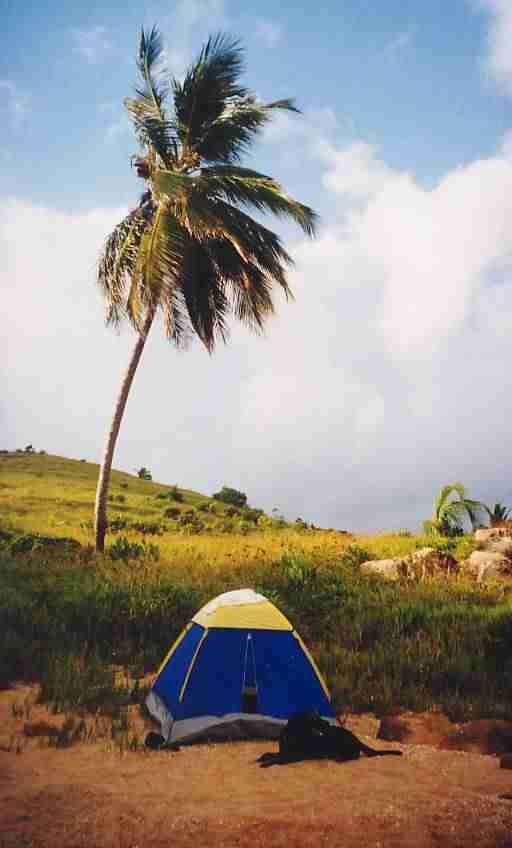 "... with no crowd at all. "
The good of camping over there, is that besides the great view at night, the sparkle from Recife can be observed in the horizon and then you say: "thanks God I'm here, so far from the big cities...".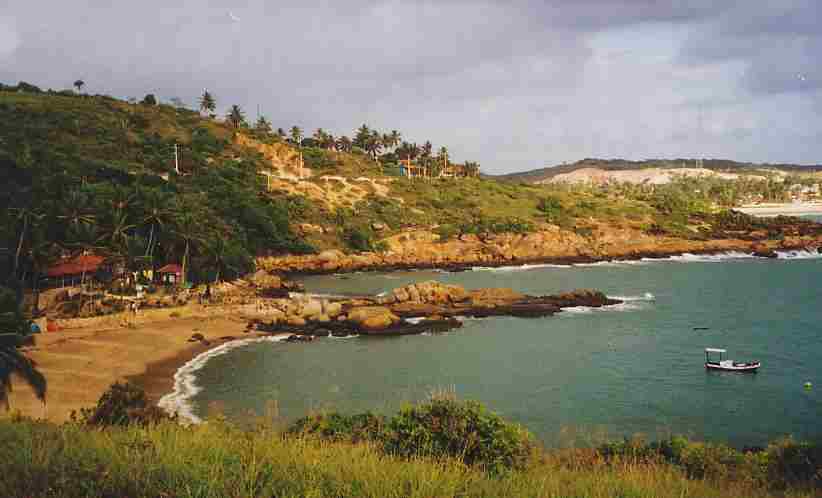 Tips by GUSTAVO VIVACQUA
1. Cell phone signal is ok.
2. There are phonebooths along the beach
3. Since you're there, get to know Gaibú, Porto de Galinhas and Serrambi.
4. In the surrounding the only event happens when the owner of the bar decides to make a Lual. You'll only find a agitated nightlife in Gaibú.
5. Visit the ruins of Nazareth's beach, a little more to the south.
6. Follow the trails that leads to the top of the hill that is to the right of the beach. The view up there is awesome.
7. In this beach there is nothing besides the bar.
8. "Hi People! This year I spent the carnival in Pernambuco... I think it was the best carnival of all my Life.... I think that for who is going to do the same there and don't go to Galo, misses the best part of the party... But for the calmer ones, they can always go to Pagode do Didi in Recife's downtown... The mood there is excellent and with certainty they won't disappoint you! Another good tip is to visit the rehearsals of Maracatus. It is worthwhile a lot, because it is cheap and you dance until tiring.... I recommend the rehearsal of Estrela Brilhante do Alto José do Pinho, in Mangabeira. Ah, and one of the most beautiful beaches that I visited was the beach of Itapoama, that is near Paiva's beach.... it has a paradisiacal landscape and it is very calm... it is before Gaibu, so, it's a good idea for who is staying in Gaibú... It's quite nice! kisses to the whole team of Trip to Brazil... Congratulations... " tip from Maria Carolina A. Azevedo
CLICK HERE to send your tip
CLICK HERE TO SEE OTHER BRAZILIAN DESTINATIONS