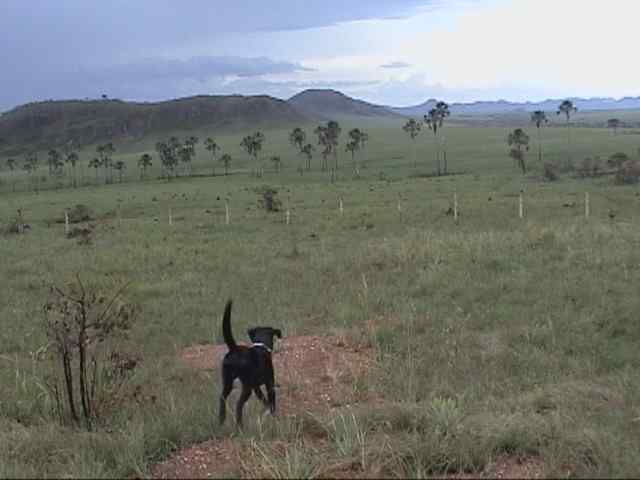 "This is the postcard of the place: "Jardim de Maytrea" (Maytrea Garden)"
Chapada dos Veadeiros is in Goiás, in the municipal district of Alto Paraíso de Goiás, about 220km to the north of Brasília and 400km of Goiânia. The National Park of "Chapada dos Veadeiros" is located on the north of the state of Goiás. Founded in 1961 by Juscelino Kubitschek, it has an area of 236.570 hectares and it is administered by IBAMA.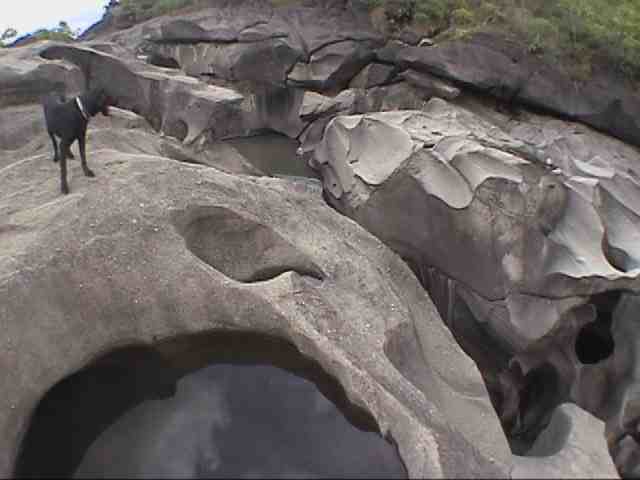 "This is the famous "Vale da Lua" (Moon Valley)."
"Cachoeira Almécegas" (Almécegas Waterfall) - it is close to São Bento, it is a beautiful waterfall, with a fall of 45 meters in veil format. The water is freezing cold, as well as in all of the waters of the region, and some swimmers use a stone of the walls in turn of the well as trampoline. Entrance by "Fazenda São Bento" (São Bento Farm). To arrive, a walk of approximately 2,5 km. The entrance is paid. There is also Almécegas II, a well with an 8 meter fall.
"Almécegas is obligatory visit."
"Vale da Lua" (Moon Valley) - extraterrestrial landscapes, with natural swimming pools. It is formed curious rocky formations with natural swimming pools and mini grottos. One of the main attractions of Chapada. 38km far from Alto Paraíso de Goiás.
"Jardim de Maytrea" (Maytrea's Garden) - Place with flower fields, paths and buritizais. One of the places more sought by the mystics. 20km from Alto Paraíso de Goiás.
"São Bento" - Formed by "Rio dos Couros" (Leather River), it is one of the more sought. It has a natural swimming pool, great to dive, and a cave. A water polo championship takes place there. It is 7,5 km from Alto Paraíso by the highway that goes to São Jorge.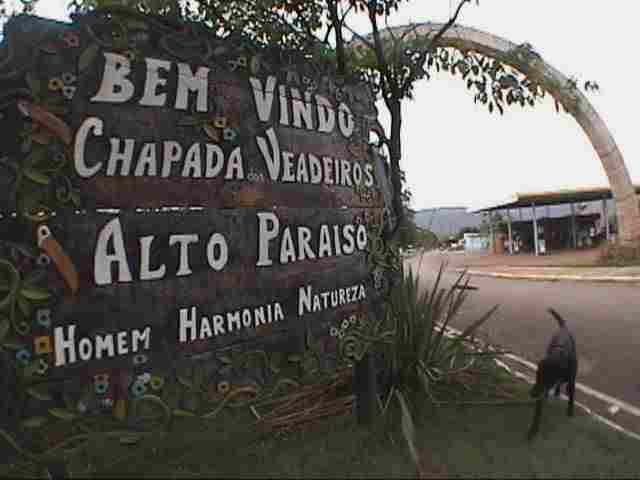 "Alto Paraíso is where the main infrastructure is."
Raizama - impressive canyons and some natural swimming pools. Waterfall formed by the encounter of the rivers São Miguel and Raizama. The place is sought for canyoning, rappel and camping. It is inside of "Fazenda Raizama" (Raizama Farm) and the access is made by a 20 minute trail.
"Água Fria" (Cold water) - Fall of 50 meters, with a great view of the area around. The water is crystal clear and there are crystal stones on the margins. The fall is 7km plus a walk of 1,5km. Good for the canyoning practice. 7km Alto Paraíso de Goiás.
"Cristal" (Crystal) - A river, where several small waterfalls are in line. From there, a privileged view of "Serra da Baliza" (Mountains of the Mark) and "Vale do Moinho" (Mill's Valley). It is 7km from Alto Paraíso, towards "Pouso Alto" - the highest point of the state of Goiás, with 1.676 meters.
Canyon I, II and Cariocas - they are canyons with swimming pools and waterfalls. Access by a trail of 6km.
"Corredeiras" (Rapids) - you'll walk a lot, but it is worthwhile. They are like natural hydromassages.
"Morada do Sol" (Home of the Sun) - another place, besides Carioquinhas, that we didn't visit still, but that was recommended by my friends.
Jumps of Rio Preto: it is one of the main points of Chapada dos Veadeiros, one fall has about 120m and the other 80m. The access trail has 6km.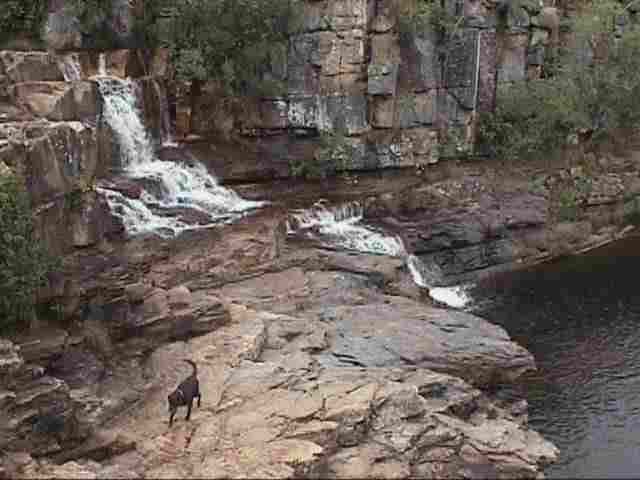 "Cachoeiras São Vicente" (São Vicente Waterfalls) - with falls of up to 150m. The access is difficult, being necessary the attendance of a guide.
"Cachoeira Morada do Sol" (Waterfall Home of the Sun) - natural swimming pools surrounded by flagstones. Sought for the rappel practice. 44km from Alto Paraíso de Goiás.
"Vale do Macacos" (Valley of the Monkeys) - Waterfalls and rocky canyons. Access by a steep trail of 35km
"Mirante do Aeroporto" (Observatory of the Airport) - One most sought places to watch the sunset. In the weekends, meditation encounters and musical presentations take place there.
"Jardim Zen" (Zen Garden) - Rocky formations enclosed by flowers. Sought for meditation. 25km from Alto Paraíso de Goiás.
"Pouso Alto" - Summit of Góias with 1.676m of altitude.
"Parque Salorim" (Salorim Park) - Park with fields, wells, observatories, area for camping, where the waterfalls Angels, with 7m and Archangels, with 10m are. 12km Alto Paraíso de Goiás. There are also many other attractions as "Morro do Buracão" (Hill of Buracão), "Morro da Baleia" (Hill of the Whale), "Pedra Escrita" (Written Stone) and "Gruta da Igrejinha" (Grotto of the Chapel).
Tips by GUSTAVO VIVACQUA
1. The people of the region are used to adding a fruit called pequi in the food. If you bite the pit, your tongue will be full of thorns. Suggestion? Don't even try.
2. The dry period is from May to September when the rivers are less full and the air is very dry. In October the landscape is greener, but the rivers are bulkier.
3. Before going to Chapada, it is essential to get vaccinated against the yellow fever with at least 10 days of antecedence.
4. Before traveling, it is good to check if the Park is open (62 446-1570), it is usually closed on Mondays. Sometimes the Park closes, when there are no safety conditions for the visitors (in times of intense rains, or fires).
5. The communities Kalunga are in Cavalcante. Very old community of blacks that maintains the habits and traditions. Besides a lot of waterfalls at the area.
6. Forget about the credit cards, because they are almost not accepted in Alto Paraíso. Bring hard cash and change.
7. Watching the sunset from Alto Paraíso's airport is great.
8. There isn't a drugstore in São Jorge town. If you need a medicine, just bring it.
9. The dirt road that connects Alto Paraíso to São Jorge is wide, without big holes and with many straight passages, but go slow. Without asphalt, the gravels on the ground cause many fatal accidents.
10. You can stay in the city of Alto Paraíso or in São Jorge town, that is where it is the entrance of the Park. In these two places you can find some good lodgings. In Alto Paraíso de Goiás, the restaurants and bars concentrate on Ary Valadão av..
11. There are swimming pools of thermal waters in the area. It is cool to go to those places by night, or if it is raining
CLICK HERE to send your tip
CLICK HERE TO SEE OTHER BRAZILIAN DESTINATIONS