PACKAGES
Clip : HIGH BAND
LODGING
PORTUGUESE VERSION

TEL: 73 35731130/ SITE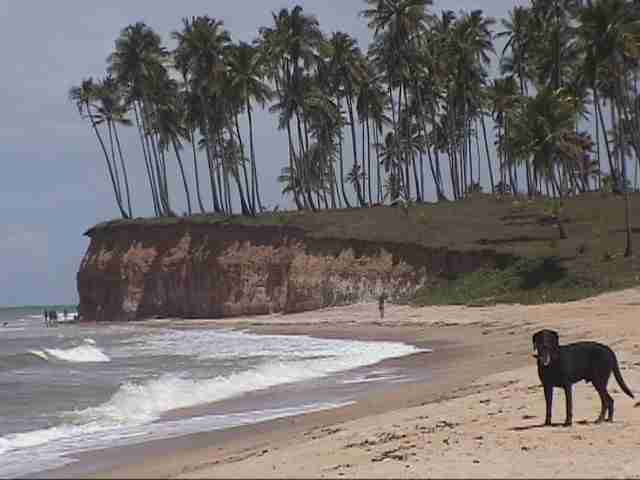 CUMURUXATIBA - (CUMUXA - means low tide and TIBA means - high tide - the sea hitting the cliffs) it is a small fishermen village located on the south coast of Bahia, 70 Km to the south of Porto Seguro (coastal distance). Coming from the north coast of Prado, the district of Cumuruxatiba is 32 km far from the municipal downtown, by dirt road.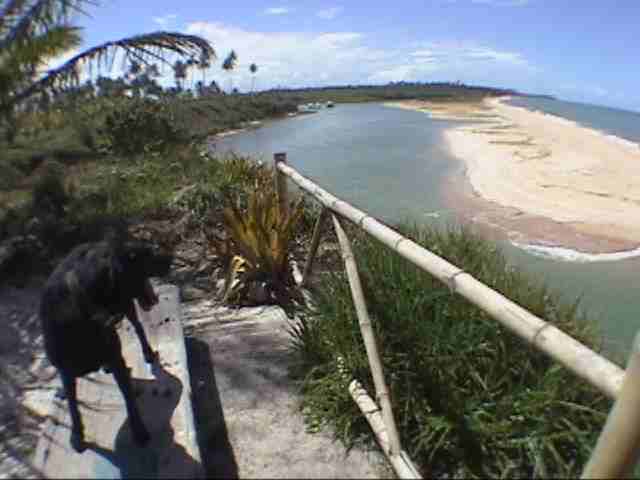 "This is "Barra do Caí"."
Until recently, Cumuruxatiba was just a calm fishermen village. Nowadays, it is known by many Brazilian and foreigner tourists. "Praia do Pier" (Dock Beach) and "Paia do Rio do Peixe" (Fish River's Beach) stand out, with ponds, cliffs and a wood dock that advances one kilometer inside the sea and of course, Barra do Cahy.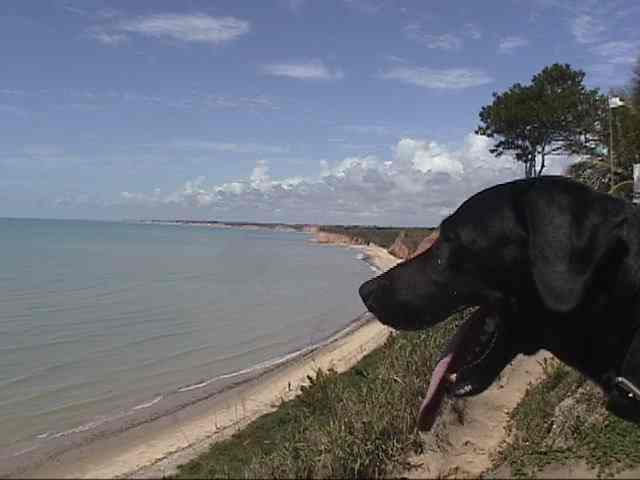 To arrive: if you come from the south, take BR-101 highway and follow to Teixeira de Freitas. From there, proceed towards Alcobaça and later to Prado. From Prado it's 32 more Km to reach Cumuruxatiba. If coming from the north, proceed on BR-101 highway until Itamarajú towards Prado. Before arriving in Prado, in Km 42 of the highway Itamarajú-Prado, take the left in a dirt road that leads to Cumuruxatiba.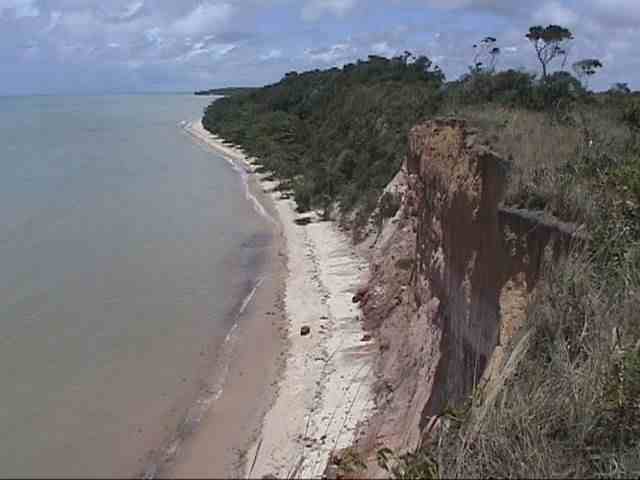 "Pier de Cumuruxatiba" (Cumuruxatiba' dock) - the postcard of the town, incorporated to the landscape of the place, built in the fifties by a German company to make the access of ships to the beach easier.
"Barra do Rio Cahy" - the place where the Portuguese probably made their first contact with Brzil and the Indians Pataxós. To celebrate that event, a wooden cross was raised at the beach.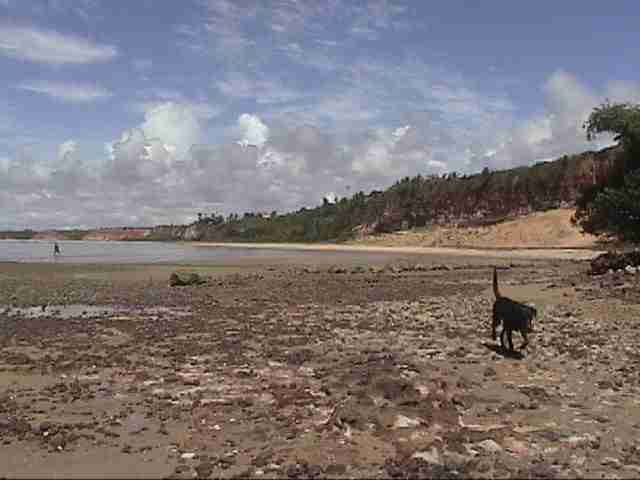 "This is a good place for long walks."
"Ponta do Corumbau" (Tip of Corumbau) - To the north, about 32 km for the beach, a sandbank that is more than 600 meters inserted inside the sea. This beach presents excellent sites for diving: Coral de Pataxos and Coral Itacolomis. The beach has several coconut trees and mangroves, being about 2 1/2 hours of boat from Cumuruxatiba.
"Praia Dois Irmãos" (Two Siblings Beach) - Beach of monazitic sand, with a small cascade that falls from the cliffs directly on the sand.
"Praia Areia Preta" (Beach of the Black Sand) - Beach of monazitic sand, with cliffs of up to 30 meters. Good for canoeing and windsurf.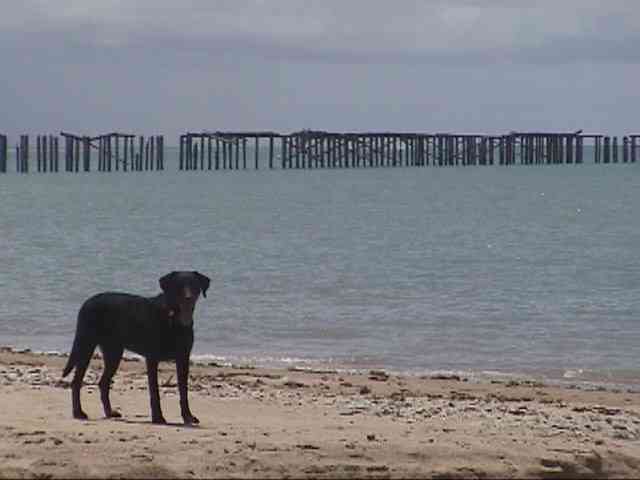 "That used to be a Pier."
"Praia da Paixão" (Beach of the Passion) - The Cahy river's mouth was the place where the first contact between Pataxós Indians and Portuguese was made. To celebrate that event and to serve as mark of the discovery of Brazil, a wooden cross was raised at the beach. Cahy river's mouth also includes a beautiful mangrove.
"Praias do Rio do Peixe Pequeno" (Small Fish's river beaches) - Delimited by two rivers, where one can take a shower of fresh water, few meters from the calm sea.
"Praia do Moreira" - small beach in a horseshoe format, an old area of nudism. Also known as the "lovers' beach".
Tauá - Beach of hard sand, with cliffs forming landscapes of multiple colors.
"Praia das Ostras" (Beach of the Oysters) - Beach with many cliffs along it.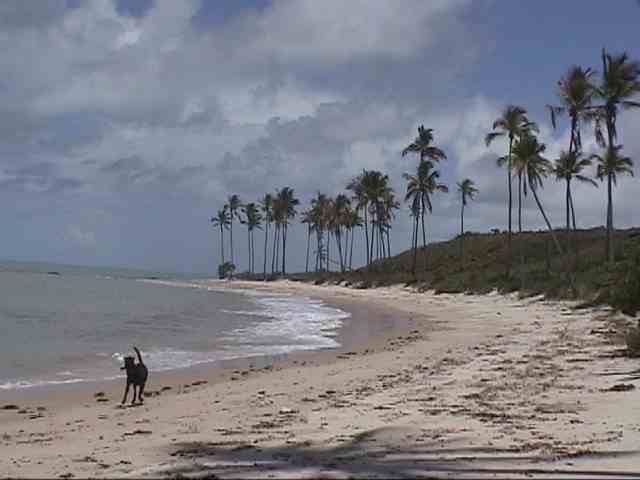 "Praia do Tororão" - Beach with soft sand, stones, reefs and a stream that falls from the cliffs, forming a small cascade on the beach.
"Praia do Japara" - A beautiful deserted beach with a grotto at the cliff.
"Praia do Rio do Peixe Grande" (Big Fish river's Beach) - With cliffs to the north and almond trees for all its extension. It das several reefs where one can fish octopi, lobsters and shrimps.
"Ponta do Imbassauba" (Tip of Imbassauba) - Deserted bay enclosed by coconut trees and almond trees. Great for line fishing, kayak and windsurfing.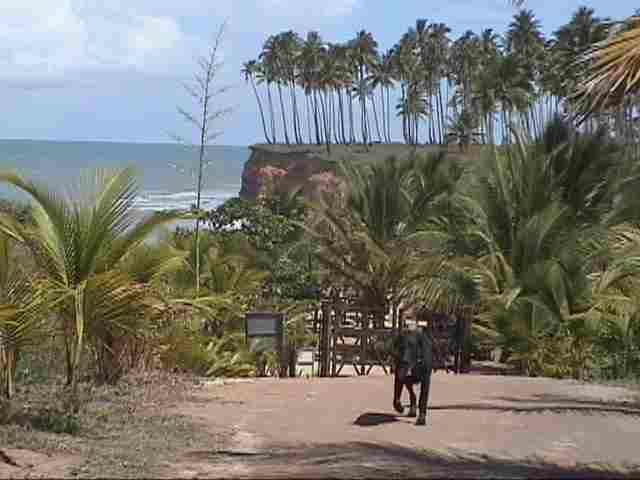 Main Distances

Prado

42 Km

Brasilia

1600 Km

Caravelas

78 Km

Salvador

844 Km

Vitória

518 Km

São Paulo

1400 Km

Belo Horizonte

854 Km

Rio de Janeiro

1041 Km
"Praia da Vila" (Beach of the Town) - With 1.200 meters of extension, it offers a great variety of huts along the beach and lodgings. The main attraction of the beach is a PIER of more than 600 meters of extension, built in the beginning of the seventies, but it is not in use anymore.
"Praia do Farol" (Lighthouse Beach) - Extensive beach of grayish sand, where it is located the lighthouse of Prado.
"Praia Viçosa" (Lush beach) - Enclosed by cliffs and with a stream that opens out to the sand.
Tips by GUSTAVO VIVACQUA
1. The best way to get to know the beaches is walking during the low tide.
2. Windsurfing and sailing can be practiced along the whole coast, especially at the reefs "Coroa" (Crown) and Pataxos.
3. Making small trips on foot, by bicycle, by car or by boat may lead you to areas as intact as the ones that the Portuguese navigators found in 1.500.
4. Don't mis visiting "Barra do Cahy", because it is one of the best attractions.
5. "Ponta do Corumbau", that is a little more far away, is a place also very sought by the visitors.
6. Abrolhos is very near, and in case you have the time, don't miss this opportunity.
7. "The place is the great, I've been there last carnival and it is the best option for who wants to be away from the agitation of the big cities! It has beautiful beaches and for who likes to walk, it is a great trip. Barra do Cahy and Corumbau can be reached by boat... it is a great place to eat, you can order a super fish stew that serves at least three people for R$25,00... "tip from Juliana Tolentino
8. "I loved Cumuru. The town is so nice, the beaches are beautiful. It is worthwhile to know Barra do Caí, to spend the evening at Mambolada, that happens on the weekends and holiday, to get to know the local population, which give cool tips and to enjoy the sun all day long". tip from Renata Mendes Piñeiro RJ
CLICK HERE to send your tip
CLICK HERE TO SEE OTHER BRAZILIAN DESTINATIONS