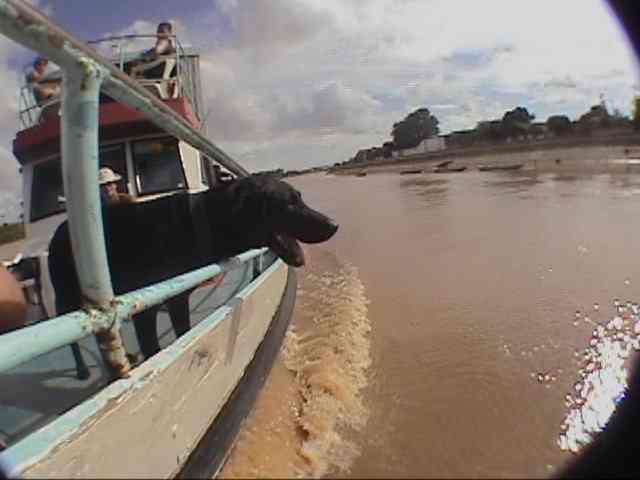 Lost for sixteen years in search of a treasure that would have sunk with his ship, the Portuguese navigator Nicolau de Resende found another unexpected wealth called "Delta do Rio Parnaíba" (Parnaíba river's mouth).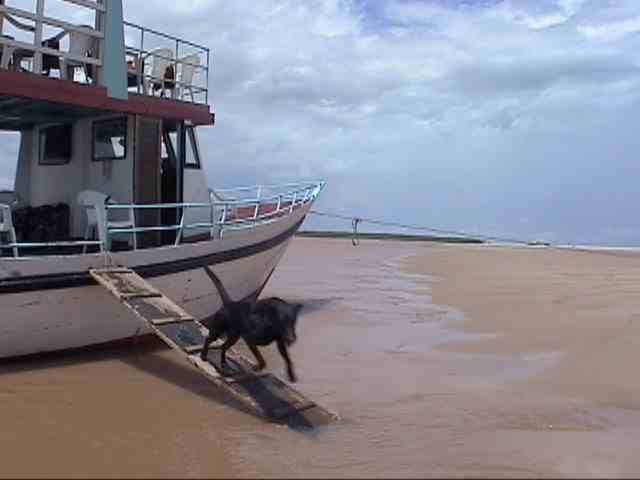 Hundreds of years later, Delta do Parnaíba continues as beautiful as before. Formed by more than 80 islands in an area of 2700 km², between the states of Piauí and Maranhão, it is the only "delta" of the whole Américan continent. A rare phenomenon that is only found similar on Nile River, in Africa and on Mekong river, in Asia.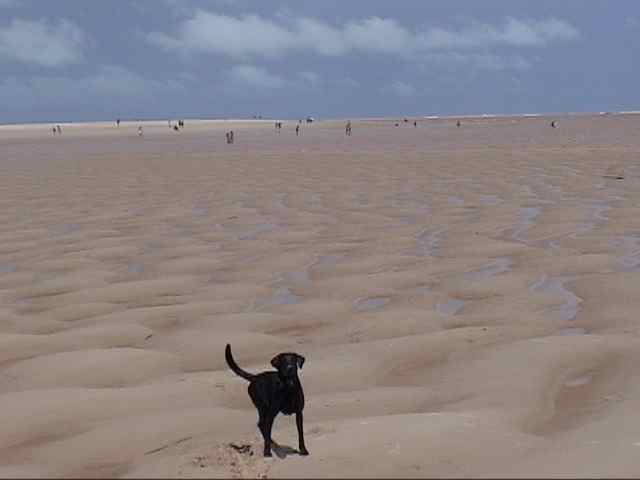 "Gee! This landscape is unique! "
Although 65% of the area of the Delta are in Maranhão, the main access is by Parnaíba, located at the coast of Piauí. If you plan to visit the park, consider at least 2 days to get to know the area.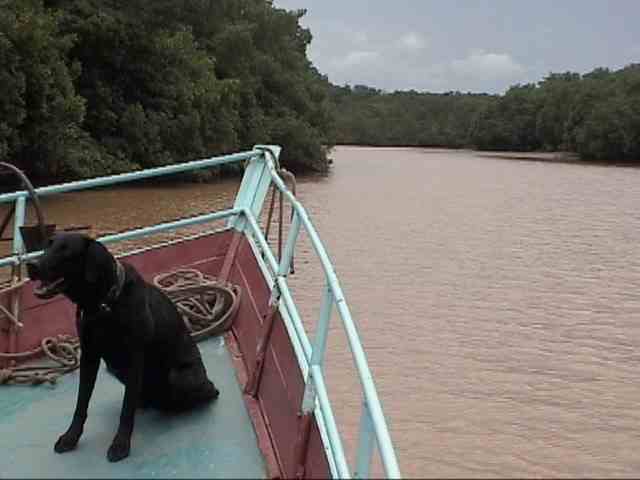 "We go by boat for some very cool streams."
Before flowing out into the ocean, on the north of Piauí and Maranhão, river Parnaíba becomes separated in five branches. It forms, then, a maze of fresh and salty waters called "Delta do Parnaíba". There are 83 islands with dunes and immense beaches, enclosed by streams and they are distributed among the paths. They form, together, a great inverted triangle (the same format of the Greek letter "delta").
"There are some huge dunes here."
Crossing the Delta, from the cities of Parnaíba or Tutóia, inside one of the so-called "cages", is an adventure itself. But who's got time and money, can stay at "Ilha do Cajú" (Cashew Island), one of the largest of the archipelago. It is a private property that still preserves 25 kilometers of beaches, streams, dunes and deserted ponds (true) and they shelter an incredible variety of migratory birds, that find a safe place to mate. One of them is the bird guará, symbol of the island.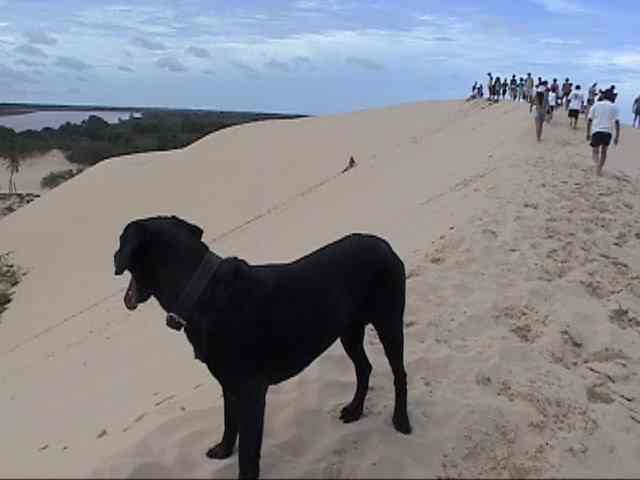 Born at "Chapada das Mangabeiras", Parnaíba River flows for more than 1500Km, and it is the only of the whole world that has the mouth to open sea. From within the embarkations that travel by Parnaíba, the great biodiversity of the area can be observed, where the landscape of the margins is constantly changing into forests, sandbanks and even dunes, growth of mangroves and deserted beaches. Alligators, toucans, monkeys and dozens of species of birds live here.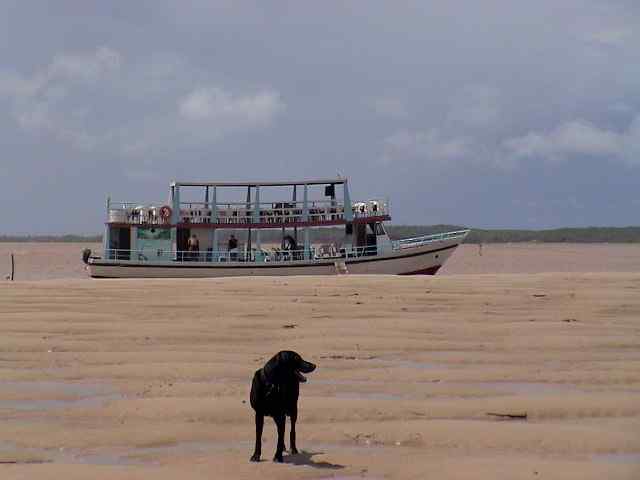 "The boats get stuck, waiting for the passengers
Due to all that singularity, the Delta still reserves more surprises. Inside of a same ecosystem it contains different and picturesque landscapes: rivers, ponds, gigantic dunes, swamps, deserted beaches of white sand and several types of mangroves. It is as if we could appreciate in only one place the several typical landscapes of Brazil.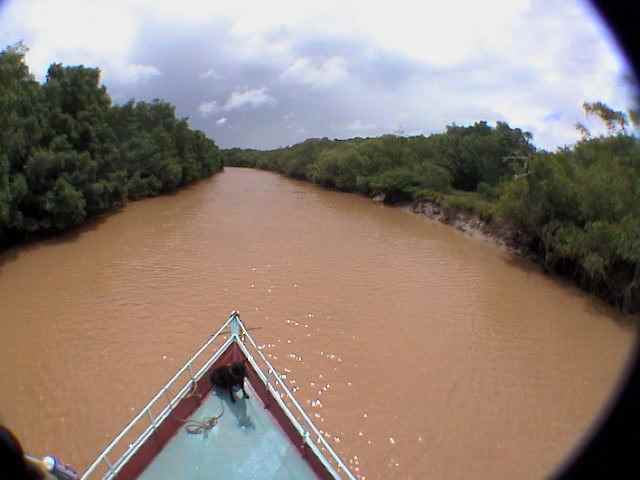 Some Attractions:
"Atalaia" - good beach for surfing, the most frequented;
"Coqueiro" (Coconut tree) - enclosed by dunes, it is beautiful;
"Pedra do Sal" (Stone of Salt) - it gathers a lighthouse, dunes and a lot of surf.
Tips by GUSTAVO VIVACQUA
1. The trips are made by boat, starting from Parnaíba, with approximate duration of 8 hours.
2. From all of the islands, the bests are Santa Isabel's Big Island, the Cashew Island and "Ilha das Melancieiras" (Island of the Watermelon plants).
3. There are flights of regional companies from Fortaleza or Teresina that comes to Parnaíba.
4. To come: from Teresina, by BR 222 highway until Piriri (180 km) and by BR 363 highway until Parnaíba. It is 335 km from the capital. By airplane, it is possible to come directly to Parnaíba, from São Luis or Fortaleza.
5. Eat some crab. Don't miss tasting the most famous dish of the area. Found at any restaurant of the city.
6. If you want to stay more isolated, there is a option that is a little more expensive, but is worthwhile. It is Cashew Island.
7. If you have the time, visit "Lençóis Maranhenses", that is nearby and great.
8. Visit "Espaço Cultural Porto das Barcas" (Cultural Center Port of the Boats), an architectural group of the 17th century, that today shelters stores, art galleries and restaurants.
9. "Dear gentlemen, a new tip for Delta do Parnaíba, is the beach of Macapá, in Luiz Correia, and besides, there is the recently founded "Hostel International" there, in front of the beach. It is the most beautiful beach of Piauí, used even as postcard by the Company of Tourism of Piauí. Thank you." tip from Paulo Scampini
10. " You must get to know the paradisiacal "Ilha da Manga" (Mango Island), in the river Parnaíba, that unites Piauí to Maranhão. It is 30 km from Floriano, Piauí, where one of the best carnivals of the interior of the northeast region happens." tip from Nilson Coelho
CLICK HERE to send your tip
CLICK HERE TO SEE OTHER BRAZILIAN DESTINATIONS