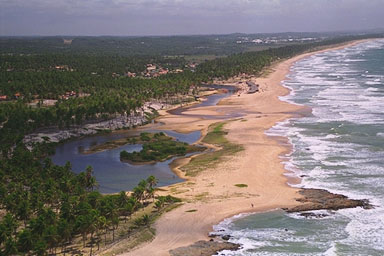 Imbassaí, which means "river's path" in Tupi idiom, has many fresh water paths that slip on cascades and rapids, flowing paralleled to the dunes, until finding the sea.
The six kilometers of beaches are bordered by tall dunes and, behind them, flows the river Imbassaí, offering a bathe of fresh and calm water. Another quite pleasant place to bathe is the pond Jauara.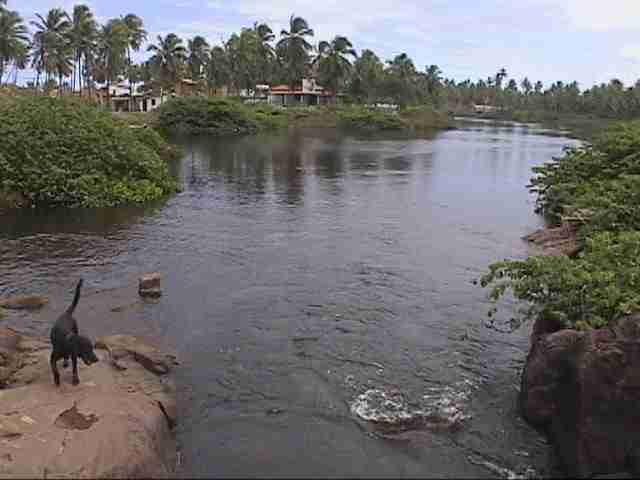 "It is good to bathe into fresh water after the beach."
Located in "Linha Verde"'s (Green Line) "APA" - Area of Environmental Protection - , Imbassaí is at 63 Km from Salvador, only 13 Km ahead of "Praia do Forte" (Beach of the Fort), and it gathers attractions for who seeks the ecological tourism.
Imbassaí arose for the ecological tourism recently, starting from the inauguration of the Green Line. Ever since, the primitive village started to be prepared with hotel infrastructure and services, earning new equipments every day, even huge ones, as leisure hotels and resorts, still under construction. The lodgings, bars and restaurants are dispersed on an area of 3 Km2, among cashew trees, coconut tree platations and forest.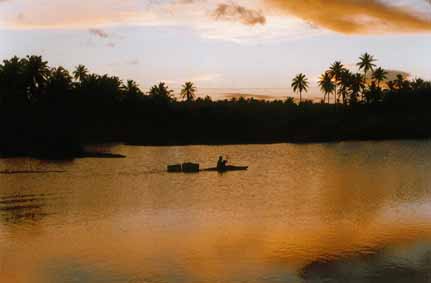 "This beach is very long."
The huts dispersed by the sand between the beach and the river, offer cold drinks and snacks of fried fish and shellfishes, besides the traditional "acarajé".
The access to the beaches is only possible for pedestrians, because the rivers that border them form a natural barrier for vehicles, which increases the visitors' peacefulness.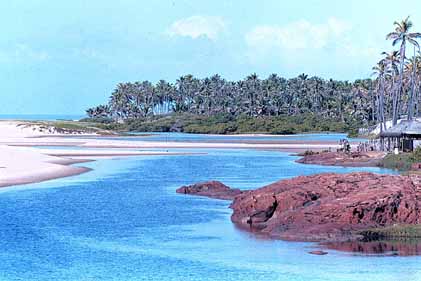 "Praia de Santo Antônio" (Santo Antônio's Beach) - it is isolated by extensive dunes and coconut trees and it has a small town that lives on the fishing and the craft made of coconut tree straw. Access by Diogo's town (5 km), plus 25 minutes of walk by the dunes. You can also reach it by the beach, for five Km and 1 Km more towards the dunes, where there are some huts.
Tips by GUSTAVO VIVACQUA
1. Good leisure options and bathe are the river "Pequeno Imbassí" (Small Imbassaí), the waterfall D. Zilda and the pond Jauara.
2. There are passages with reefs that form natural swimming pools during the low tide, perfect for bathing.
3. During the summer it is possible to rent kayaks to use on the river.
4. 4 kilometers after the bathes cited above, after great dunes, Santo Antonio's town is another attraction.
5. At Pond Jauara you can also dance some "samba" with Mrs. Alaíde who, in spite of her 19 children, still dances the afro music very well.
6. For the lovers of ecological walks, it is possible to walk to Santo Antonio, a primitive village inhabited by fishermen and descending of Indians.
7. Also visit "Praia do Forte" (Fort's Beach) and "Costa do Suípe" (Sauípe's Coast)
CLICK HERE to send your tip
CLICK HERE TO SEE OTHER BRAZILIAN DESTINATIONS