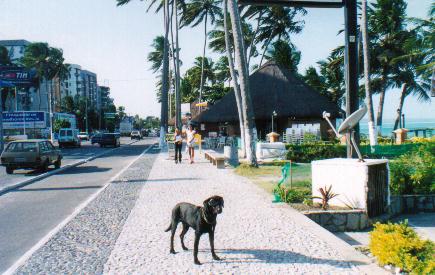 "The coast of the city is beautiful."
History:
Formerly, this where the city of Maceió is, was all flooded, where was the rivers Mundaú and Paraíba, and the sea. The Indians that lived there called the place Maçaiook, which means "what covers the flooding", but then the Portuguese arrived and they decided that the name would be Maceió and that was it.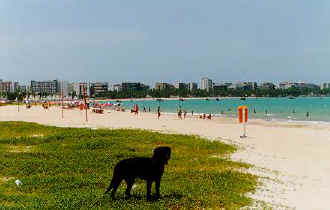 Around the 17th century, the caravels docked at the beaches of this region and were filled with wood from the local trees. Then the same area was used for other products, such as sugar, tobacco, coconut, leather, cotton and spices. The port developed and became capital of the province of Alagoas in 1839.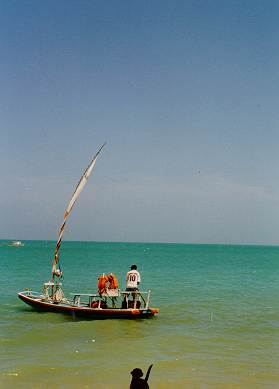 "Hey, buddy, take me with you!!! "
The City:
Maceió is a city that is very easy to locate, because it is between the sea and Mundaú pond. It is practically surrounded by water. The city has more than 700.000 coconut trees!!!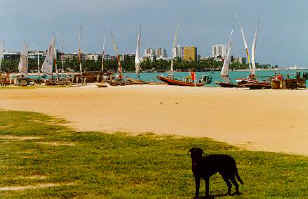 "There is a lot of rafts here! "
If the mayor would give a coconut tree to each resident of the city, it would still remain some coconut trees without an owner. The beach is full of rafts of all colors, creating a beautiful view.
The border is very beautiful, with a nice sidewalk for strolling, kiosks with bars and good restaurants, modern buildings and hotels. The rafts of Pajuçara beach take the tourists to swim in a natural swimming pool in the middle of the sea. It is amazing how such a simple embarkation is so good on sailing...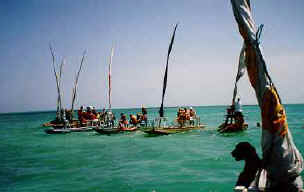 "I'm going to swim in the natural swimming pool."
The best of it is that the rafts can only sail, without using any engine, because it is not allowed there. This decision was made in an attempt to preserve the local ecosystem.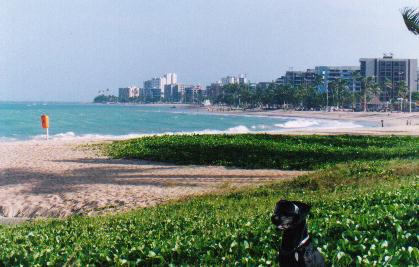 "Oh, it makes you want to stay at the beach all day."
There is an Environmental Protection Area there, "Costa dos Corais" (Corals Coast), that was created 3 years ago, to protect more than 20 species of corals. It seems silly, but coral takes 5 years to grow 1 cm, which means, if you step onto one and break a piece of it, it will maybe take a dozen years become the same again.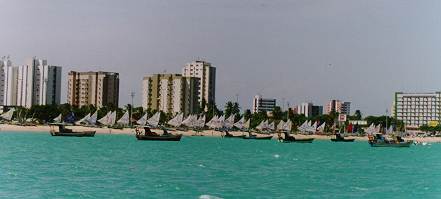 "The beach is full of rafts."
The best beaches and best frequented are to the left of "Porto de Maceió" (Maceió Port). There stroll peacefully, with no worries such as the car traffic or finding space to park your car.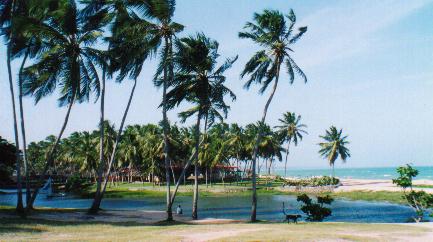 "It is a beautiful city."
Tips by GUSTAVO VIVACQUA
1. Go for a sail on a raft, it is awesome. Go to the natural swimming pools on the low tide. On the full tide, it is not so good.
2. Visit "Projeto Peixe-boi" (Manatee Project), at Paripueira beach, to the north of Maceió. The manatee is one strange animal.
3. Visit the beaches to the north and south of Maceió. There are great places, like "Francês" (French), "Barra de São Miguel" and others.
4. Some kids will start to talk to you and doing it until you give them som e money.
5. Respect the local people.
6. Coconut is cheap.
7. If it rains, stay under a coconut tree, it won't last more than 5 minutes.
8. Bring diving equipment.
9. "At night, go to Bye Bar. The place is cool, open, once in a while it has Videoke and Live Music, and it is not expensive! "tip from Rogério Lima and Yuri Amarante"
10. "Gunga beach is great, but a bit far from Maceió. The water is crystal clear and it is surrounded by coconut trees. It is in private property, so you need to be taken there. Some guys offer this service in a van. It is beautiful." tip from P. Vista
11. "For wans to enjoy the nightlife, I suggest "Aquarela" (Watercolor) and "Lampião" (Lantern), which are at the seashore, and "Virgulino" which is at downtown. They are the best "forró houses" of the city, where, besides dance shows, you can also enjoy dancing with the local dancers." tip from Eduardo Burghi Campinas - SP
13. "Hi people, I have just returned from the Northeast, I visited places I already knew and I got to know new ones. In Alagoas, towards at the north of the state, "Barra de Santo Antonio", a city where you cross "Santo Antonio Grande" river on a raft to arrive at "Ilha da Coroa" (Crown Island). They call it an island, but it is a peninsula. The place is beautiful! 7 km after, you arrive at "Praia de Carro Quebrado" (Broken Car Beach). The beach is wonderful, almost virgin, deserted, with many coconut trees and cliffs. After that, come the beaches: "Cebola" (onion), "Gamela" Tip, "São Miguel dos Milagres", "Barra de Camaragibe", the whole north coast is maravilhoso. I hope you enjoyed my tip and don't forget to check them!!!!! A great kiss". tip from Patrícia
14. "Bring mask and snorkel to dive at the north side." tip from Lourival
15. "Maceió is a beautiful city!!! There is a craft fair in downtown, where everything is sold... The coconuts are cheap at the beach and the variety of "tapiocas" is unbelievable: cheese with jam, chicken with catupiry... delicious. Besides all the "forrós" at the beach, there is also a place to go at night called "Galpão". tip from Aline Araújo.
CLICK HERE to send your tip
CLICK HERE TO SEE OTHER BRAZILIAN DESTINATIONS