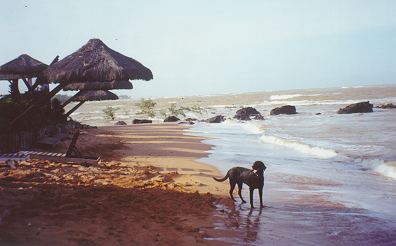 "Some nice kiosks on the beach."
This place was already the land of the Indians Temiminó and Botocudo. However, the Jesuits arrived and they chose this point to build their churches and residences, to begin the catolicism introduction and Portuguese colonization.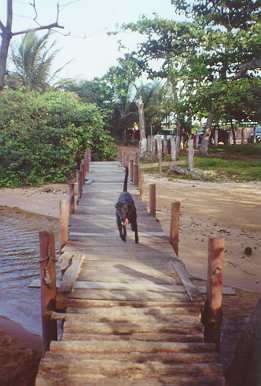 "... bridge over calm waters... "
Since then, Manguinhos didn't grow "much" and it continues being that kind of place that is smaller than a city and larger than a fishermen village.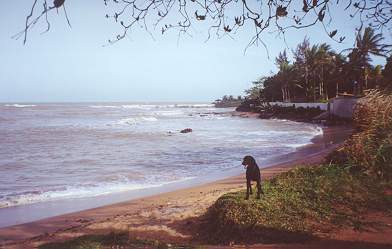 "In some passages the strip of sand is narrow."
It is a good place, with beaches, dirt streets and sidewalks with lawns. Manguinhos is at about 25km to the north of Vitória, where some people like to spend the summer and the weekends.
This place is very calm and it has several summer vacation houses, lodgings, restaurants and kiosks. People from Vitória like to have lunch there, because there they find some great dishes like fish stew in mud pots and local pies.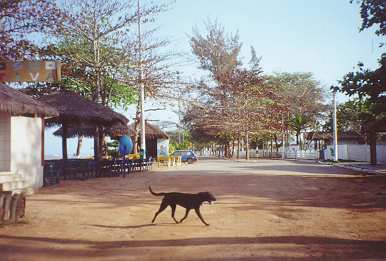 "The streets are of dirt."
The residents of the place do want the peace to remain. There is this story that some time ago, the city hall tried to pave the streets, but gave up due to the protests of the residents.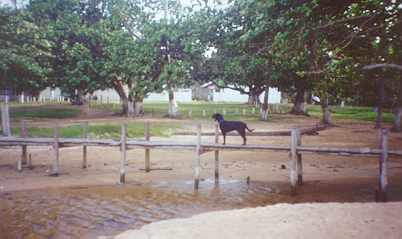 "What would be across the river? "
Once in a while the local people promote reggae, rock and congo shows. Congo is a 100% local rhythm, made with rustic instruments ("barricas", "caixa", "cuíca", "ferrinho" e "casaca").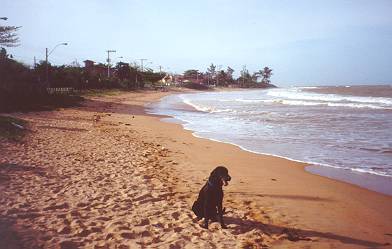 "There are some beaches with nobody. "
The main attractions are:
Manguinhos Beach: it is the main beach of the place. Reefs and weak waves.
Carapebus Beach: it is where the good waves are. There is where the surfers meet.
Bicanga Beach: It has some summer vacation houses. They say that this beach is good for wrench fishing. It is crossed by Bicanga river, which marks the end of "Ponta do Facho" Ecological Reservation.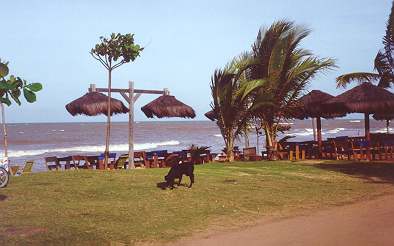 "In the low season the crowd is zero."
Tips by GUSTAVO VIVACQUA
1. Carapebus is good for surfing.
2. In Jacaraípe, you can also find some good waves.
3. It's a place for who seeks peace and peacefulness.
4. "Get to know a bar/restaurant called "Estação 1ª de Manguinhos", where some cultural events always happen, such as poetry soirée, art exhibitions and others. Besides, the food is great... Bye!! " tip from Edson (Vitória)
5. "I would just like to congratulate you for the idea about the nice dog that guide us for the trips to that paradise: Manguinhos. See ya! Hugs." tip from Claudia Pentiocinas
CLICK HERE to send your tip
CLICK HERE TO SEE OTHER BRAZILIAN DESTINATIONS