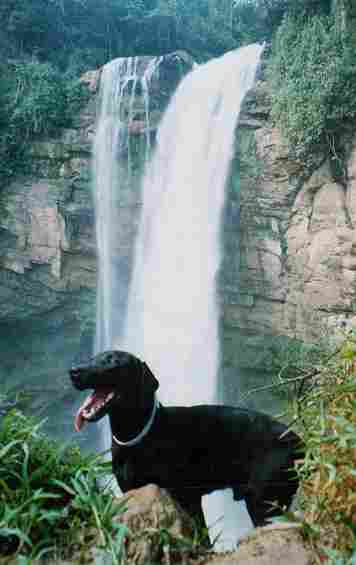 To arrive to that awesome waterfall, one should go to Alfredo Chaves, that is in Serra Capixaba (Espírito Santo Mountains)(the entrance of the city is 22km to the south of Guarapari in BR 101 highway or 13km from Iconha, for who comes from the south in the same highway) and, from there, drive more 15km in a dirt road. Ask the local residents how to arrive there. It is a beautiful waterfall and not well known in Brazil. It is worthwhile to get to know it.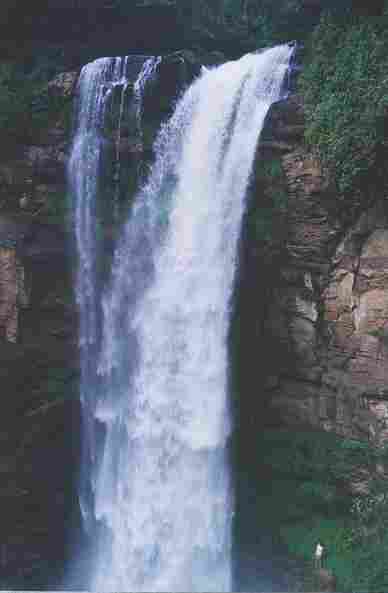 " Compare the height of the waterfall with an adult person! "
Close to that waterfall there is Cachoeira da Vovó (Granny's Waterfall), that is also worth a visit. It is formed by a relatively wide river for 2 very high steps forming a waterfall on top of the other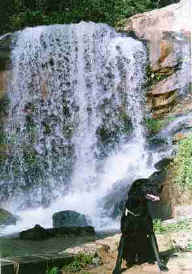 " This waterfall is also very nice"
Tips by GUSTAVO VIVACQUA
1. If you want to stay close to those waterfalls, choose a camping called Pedra Azul (Blue Stone), or any camping close to the waterfall.
2. The waterfall is in the middle of nowhere, a beautiful place, but there is nothing besides the waterfall and of the great view.
3. Visit Pedra Azul (Blue Stone) that is near and good.
4. "Once you're there, also visit Carolina, that is about 10 km after Matilde. There are cozy Lodgings and trails in the forest, the place is also blessed by nature. It has beautiful waterfalls and is peaceful." tip from Lissana Nolasco
5. "the best time to visit that waterfall is when Festa da Banana (BANANA'S FESTIVAL) is happening in ALFREDO CHAVES. The city gets full, because it is the festival of popularization of the city's main product. You can join the beautiful to the pleasant " tip from Ricardo Firpo - RJ
6. "You should also visit Cachoeira do Daróz (Daróz Waterfall) that is very good for bathing. Bye Haxi!! The site is super!! ". tip from Marina Oliveira - SP
7. "A place you cannot miss visiting is Túnel (Tunnel). That tunnel was made at the time of the construction of the railroad that crosses the area to divert the river (it passes underneath of the rail). It is very large and with some stone steps knee tall and with a lot of water. The tip is to cross the totally dark tunnel and with the water running through your legs. It is difficult to believe they made such a huge tunnel in that time. There are many fruit-eater bats that live there (thousands). To find the tunnel you have to walk about 15 min along the railroad, leaving the station Matilde (Disabled). A walk for who likes strong emotions. " tip from Marcelo Miranda - Vitória ES
CLICK HERE to send your tip
CLICK HERE TO SEE OTHER BRAZILIAN DESTINATIONS