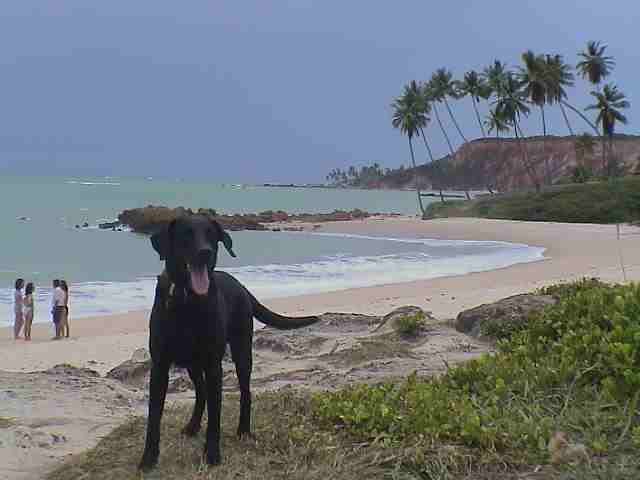 Pitimbu was inhabited by the Indians tabajaras and potiguares, that besides the hunt and fishing, they extracted brazilwood, abundant on the area, which was changed for food with French. Maybe, for this reason, Pitimbu has been known for a long time, as "Porto dos Franceses" (French Port).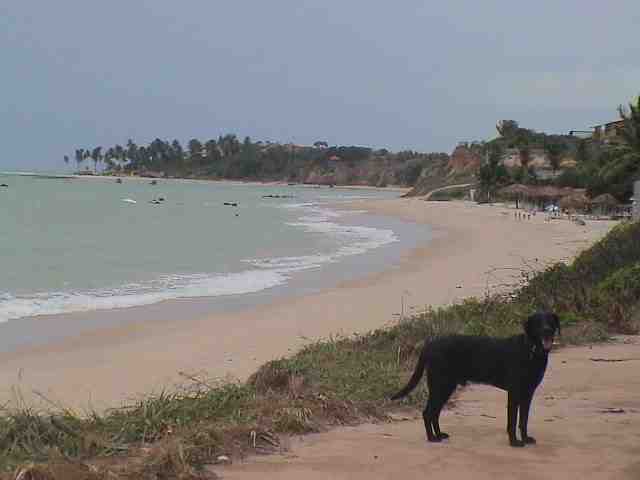 "There are many cliffs here."
Some attractions:
"Praia do Pontal" (Point Beach) - it is to the north of the city of Pitimbu, you have to go by it when going to the deserted beaches to the north of the city.
"Barra do Abiaí" (Abiaí's Mouth) - it is to the north of Point's Beach, it is a wild beach. Located at Abiaí River's mouth, it is excellent for the lovers of fishing. The access is made by PB-008 highway.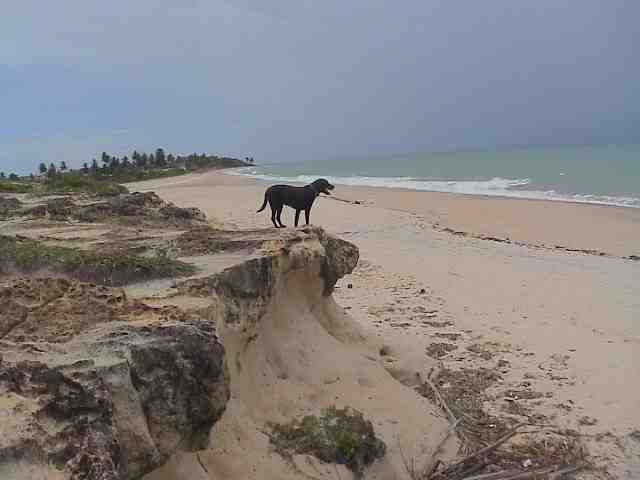 "I think I'm going to swim a little".
Cliffs - they are between Point's and Abiaí's Mouth Beach. With their famous colored sands, used by the artisans to create colored drawings inside of glass bottles. It is an excellent beach to surf and to practice radical aquatic sports .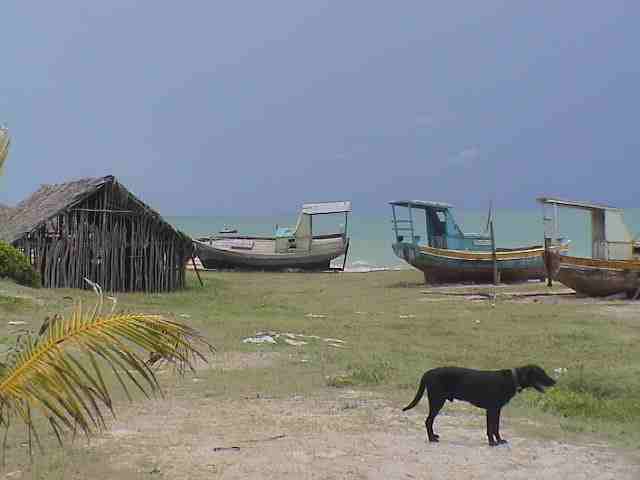 "Farol" (Lighthouse) Beach - it is at 1Km, in front of Pitimbu and it has this name due to the existence of a lighthouse that signals the navigators of the entrance of the bay of Pitimbu. On the low tide, the atoll appears above the water. The transport to the place is made by fishing motorboats rented with the local fishermen.
Acaú Beach - it is located at the boundary of Pernambuco and Paraíba States. It stands out for the great number of tourists during the summer, when its nightlife is quite hot with artists' and forró bands presentations. There a complex with 14 bars, where the youngs meet.
Tips by GUSTAVO VIVACQUA
1. There is only one "Banco do Brasil" (Brazil's bank) terminal, at "Senhor do Bonfim" Square
2. Pitimbu has by two bus lines that connect it to Goiana-PE, by Rodotur bus company and to João Pessoa by "Senhor do Bonfim" bus company .
3. The Beaches of Pitimbu offer areas to camp. A great place is at "Ponta de Coqueiros" Beach, located between the beaches of Acaú and Azul.
4. For who likes wild camping, the beaches of Mucatú, Bela and "Barra do Ibiaí" are good options. They are wild beaches, without any infrastructure.
5. For the ones who like canoeing, go up Abiaí river.
6. "hello!! I Liked site on Pitimbú-PB a lot, however, I think you should explore more the following tourist points: bars, restaurants, young points, like "Paçhoça do Marcelo"! I've been there at "Praia dos Mariscos" (Shellfishes' Beach) and I loved it! Very lively, many youngs... "tip from Claudia Calciolari
7. "I liked site. Pitimbu is a beautiful beach, full of stories and of tourist points to visit. Besides these places explored by the site, many other exist, like "Abridura" that has a beautiful view, "croas", among others. Bye, " tip from Paula Prestrelo
CLICK HERE to send your tip
CLICK HERE TO SEE OTHER BRAZILIAN DESTINATIONS