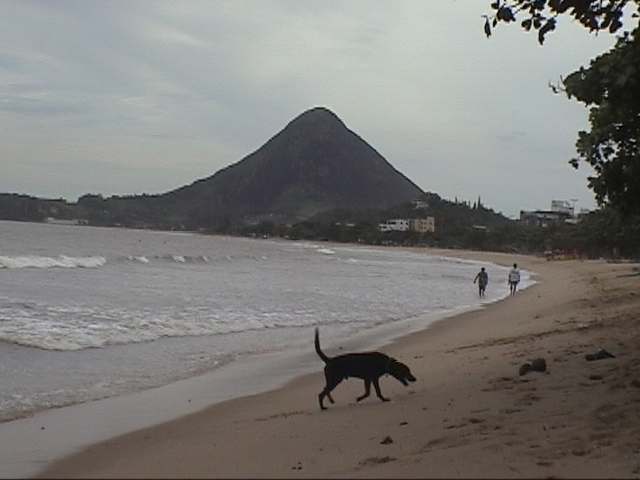 "Gee, that "Monte Agha" (Agha Hill) looks like a volcano! "
"Praia Doce" (Sweet beach) - it is part of Boca da Barra, mouth of Piúma River. Located at downtown. It is the headquarters of the School of Fishing (First in Brazil), "Nossa Senhora da Conceição" Church and Sports Gym
Acaiaca Beach - weak waves, good for children; it has monazitic sand. Many shells can be found on the sand. The Craft Fair works in front of the beach.
Maria Neném Beach - Good beach for surfing, with great landscape. One can find whelks and shells there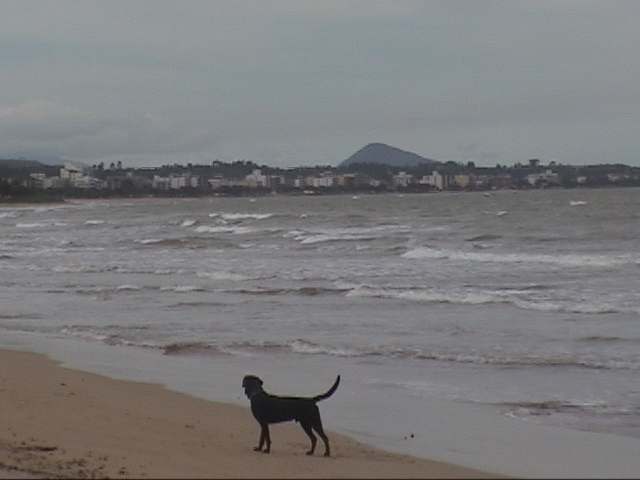 "Pau Grande" (Big Wood) Beach - Between Piúma and Iriri, a deep beach, good for surfing. It has a beautiful panoramic view. It is at 2 km from dowtown
Agha Hill- Aghá means "Hill to see God" (Puris and Tupiniquin Indians). It is dividing mark with the municipal district of Itapemirim. It has a pyramidal shape, with 300 meters of height; Proper for hand-glide flights and escalades.
It is one of the esoteric "points" of the Southeast Area. On its hillside, the blue orchid "Smirgia Aghaense" blooms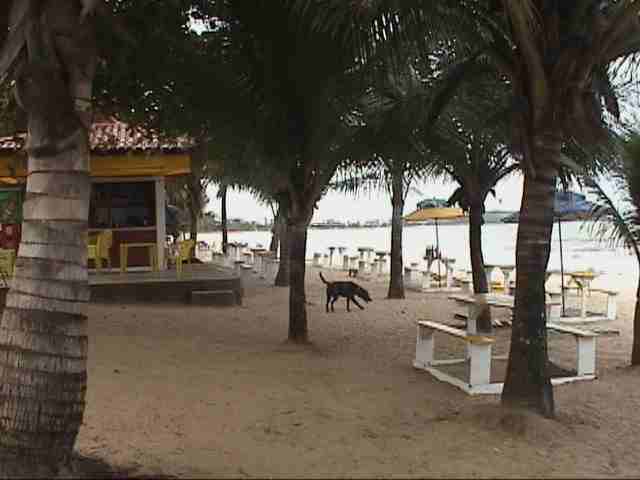 " There are nice kiosks here"
"Ilha do Meio" (Island of the Middle) - it is located at 500 meters from the beach. It is a natural park, protected as patrimony. It is rich in "bromélia" and orchids. Good for the throw fishing. There you can see lobsters, sea horses and starfishes. When the tide is low, the visitors walk in the water until the island and they return with safety before the high tide.
Orobó Valley - green fields interrupted by the river, proper for ecological cavalcades, rural tourism and researches in its archeological site.
Ilkyara Hill - Old hotel building and also one of the highest points of the city. Formerl,y it hosted an indigenous village. It's a kind of observatory with panoramic view of 360 degrees. It is located at "Rodovia do Sol" (Sun Highway) few meters from Monte Aghá's .
"Boca da Barra" - Piúma River's Mouth - Ramiro's Hill - Secondary Atlantic forest - "Nossa Senhora da Conceição" Shrine
Corujão Beach - Beach good for sailing. It is quite busy with sailing boats, schooners, wind surf, banana boat, jet skis, kayaks.
Aghá Beach - weak waves, paradisiacal landscape. It is below Aghá Hill, reference point for the fishermen, close to the boundary of the municipal districts of Piúma and Itapemirim. Here the rarest shell of the world, "Oliva Zelindea", was found.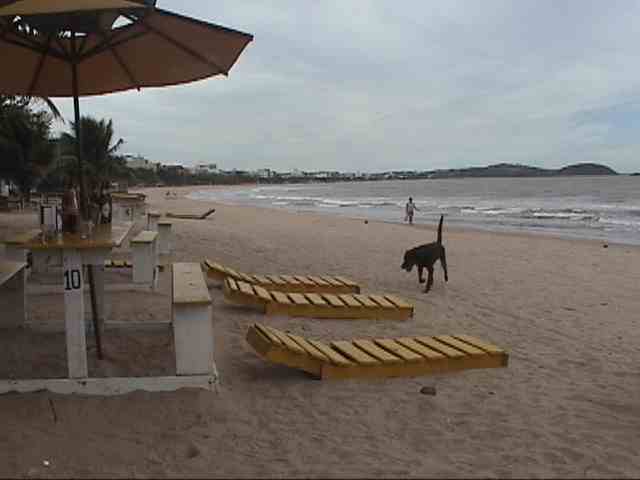 Conceição Pond - Boundary of the municipal districts of Piúma and Anchieta (Iriri), fresh water that is mixed with the sea water.
"Gambá" (Skunk) Island - Connected to the continent by an isthmus, it shelters birds and sea animals. In this natural park, shells are grown to be used on the local craft. Some non classified species of animals and plant were discovered there.
To access it, surround the island and its natural observatory. It is proper for walkings, mountainbiking, fishing and diving at its beach. It is protected as landscape patrimony.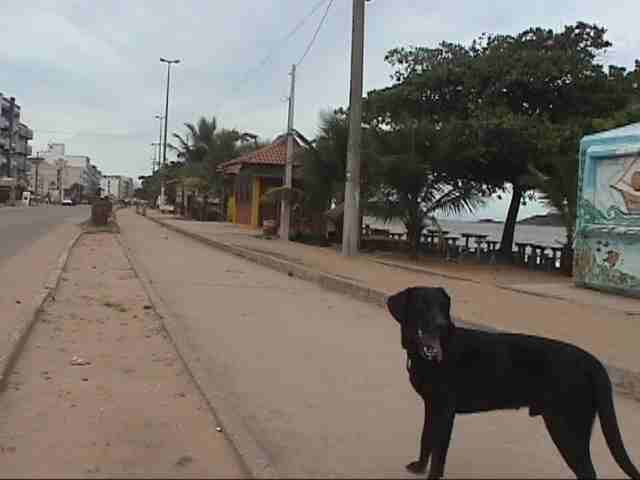 "I think I heard someone calling my name"
"Ilha dos Cabritos" (Goats' Island) - Boats and sailing boats trips, leaving the beach or the the Skunk island. This island is at 15 minutes from the continent.
Natural Park of flora and fauna, it is protected as landscape patrimony.
It is covered by native forest with rustic trails proper for walk. Its beach is small and of clear waters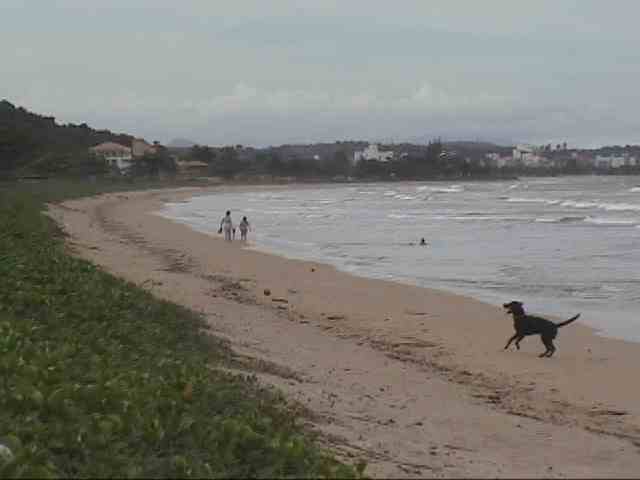 " There are some cool shells here."
Piúma River - it surrounds Piúma spa and its East is on the Richmond Mountain, in "Vargem Alta". At the river margins, the vegetation and the growth of mangroves are refuge for the herons, "piaçocas" and other small animals like: "pitú" shrimp, crabs and fish. Proper for boat trips, fishing, etc
Cool Tips:
1. The waves are very weak, so the place is not proper for surfing.
2. Don't miss making a boat trip for the nearby islands.
3. "I spent many carnivals in Piúma. Now that I am married, it's all over!!! - For the carnival, is better to go by car, however it can also be made by bus. - There are plenty beautiful girls from Minas Gerais on the holidays - eat fish at the islands, it is very good - in the carnival, have lunch in UBU (for who likes fish), after Anchieta". trip from Ricardo Firpo
4. "I have already spent many Carnivals in Piúma. 5 consecutive years. And some New Year too! But as the guy above, I also got married and it's an end for the parties : -) The tip on Piúma is the following: - To wake up, and to go to Iriri. There it is full of beautiful people. To eat peroá on lunch, and to go to Castelhanos beach where there are always music floats. At night, take a shower and go back for the music floats. - I didn't find many advantage on staying at lodging. Stay at a Camping. The Campings have good infrastructure. - If you don't want to camp, go there in the beginning of January and rent a house, that costs about R$800 on the main street. - To go by bus, the better is to buy the tickets in December. But you can also go to Cachoeiro and, from there, take the urban bus to Piuma. It's good to go by car, the highway is calm, with many gas stations to stop. - You can spend the carnival there with R$300. The beer is cheap, and a meal costs R$3,50." tip from Abilio
5. "people, the carnival of Piuma is great The best carnival of Espírito Santo is there. "Capetão" (a drink) and beautiful people are constant!!!. " tip from Carol/RJ
6. "I can't believe you guys came to Piúma and haven't climbed Agha Hill!!!!! " tip from Oswaldo Filho
7. "people, I got to know Piúma when it was just beach, bush and dirt road. Around 1974. Since then, I go there every January and also, sometimes, in the carnival. Besides, I have already climbed, when a boy, Aghá Hill. It is worthwhile to know, mainly if you are single. The flirting happens freely. Many beautiful chicks. Today I am married and I am going on December 30, 2003 to a little bit more. Hugs." tip from Leonardo Ecar Dutra from Anápolis-GO
8. "Hi, people!!! My name is Rafael, I am from Juiz de Fora and I go every year to Piúma, since December of 2001 in the New Year's Eve and carnival. It is very good... lots of women... A good tip is to drink at Tonny Drink´s's hut... the drinks are cheap and of great quality.... in the daytime enjoy a cold beer at a kiosk at the edge of the beach "tip from Rafael Beteli Silva Zanon
9. "I've already been there three times. The singles will enjoy better." tip from Ronaldo
10. "I have spent vacation in Píuma, from December 23, 2003 to January 03, 2004. It is so good, it was the first time I went, and I am anxious to be back soon. The flirting is huge, a lot of beautiful man, music good everyday at the kiosks, delicious beaches. It was great, don't miss it... " tip from Lilian dos Santos
CLICK HERE to send your tip
CLICK HERE TO SEE OTHER BRAZILIAN DESTINATIONS