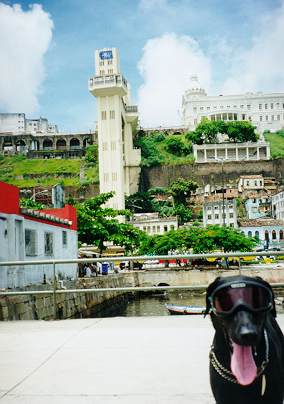 "Behind me, it is the famous "Elevador Lacerda" (Lacerda Elevator)."
Salvador was founded by a guy called Thomé de Souza, in 1549. Since then, a lot of carnival, "micaretas" and other parties happened. The city has a 500 year know-how on carnivals and similar parties.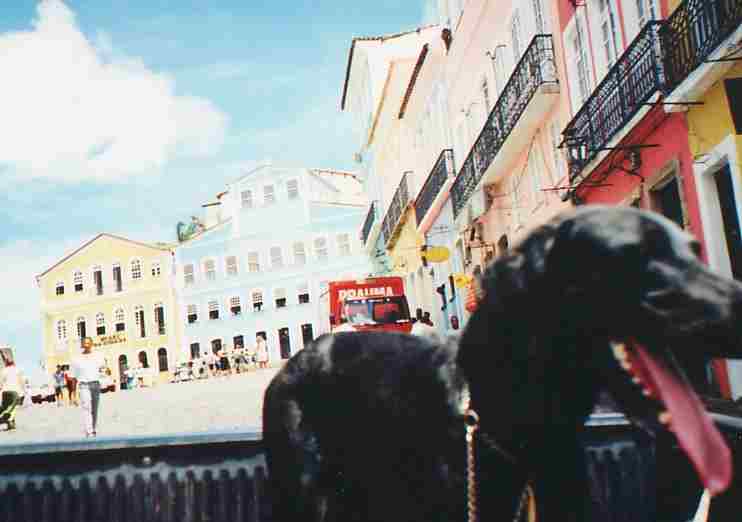 "I visited "Pelourinho" (Pillory)... "
In the old times, people thought that the city would be attacked from the sea, and for that, our friend Thomé decided that Salvador would be a fortress city. The place chosen was the actual Pillory, because it had a privileged sight and it had a face of almost 90 meters of height. Besides, the city had only 4 access gates, but they have already been destroyed in the 17th century.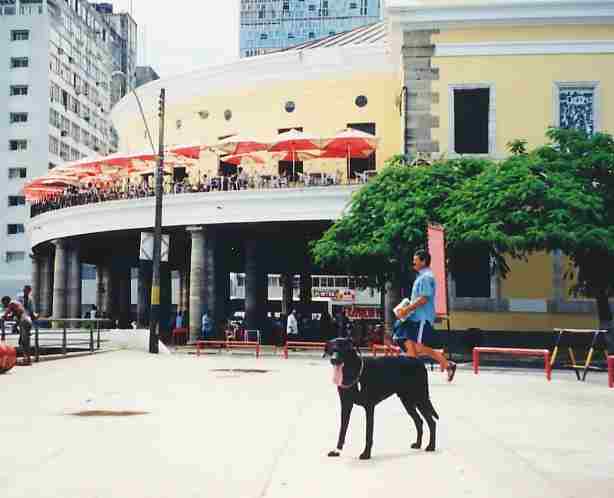 "I watched the capoeira that happens at "Mercado Modelo"."
A curious thing is that the "pillories" were the places where the slaves were punished at the mills, then the name.
The Pillory has already been used for that purpose. The place was the neighborhood of the aristocracy of Salvador, but around the 60's the place got decadent and it became a point of thieves and prostitutes.
However, the place was restored and now it is beautiful. Besides, thr night there is great, on Thursdays, besides the Olodum rehearsal on Tuesdays. It also has great restaurants, lodgings and crafts.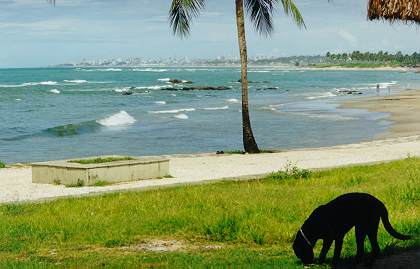 "Here it is famous Itapoã."
The city has more than 20 km of beaches. Some of them are:
"Porto da Barra" (Barra's Port): Thomé arrived at this beach. Beach without waves.
"Farol da Barra" (Barra's Lighthouse): good for surfing. People like to enjoy the sunset over there.
Ondina: several reefs over there and once in a while it is good for surfing.
"Rio Vermelho" (Red River): 2 small bays. From there, people send presents in small boats for the goddess Iemanjá, in a party that happens on 02/02
Amaralina: several kiosks that offer local food.
Pituba: a lot of stones, a lot of crowd and plenty infrastructure.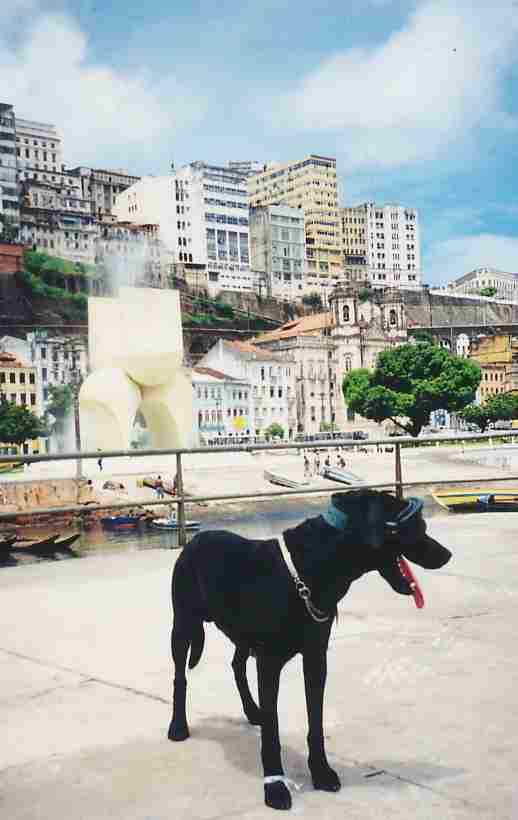 "They gave me a bracelet that makes my wishes come true... "
"Jardim de Alá" (Alah's Garden) : it shelters "Costa Azul" (Blue Coast) Park, with sport courts. It has waves, coconut trees and green areas.
"Armação": the slaves disembarked here. Now it has famous restaurants.
Itapuã: famous beach that even is the theme of a song. It shelters a TAMAR (Marine Turtle) Project.
Stella Maris: it is where the the best waves of the city are.
Ipitanga: waves and meeting point.
"Aleluia" (Hallelujah): same thing, waves and meeting point.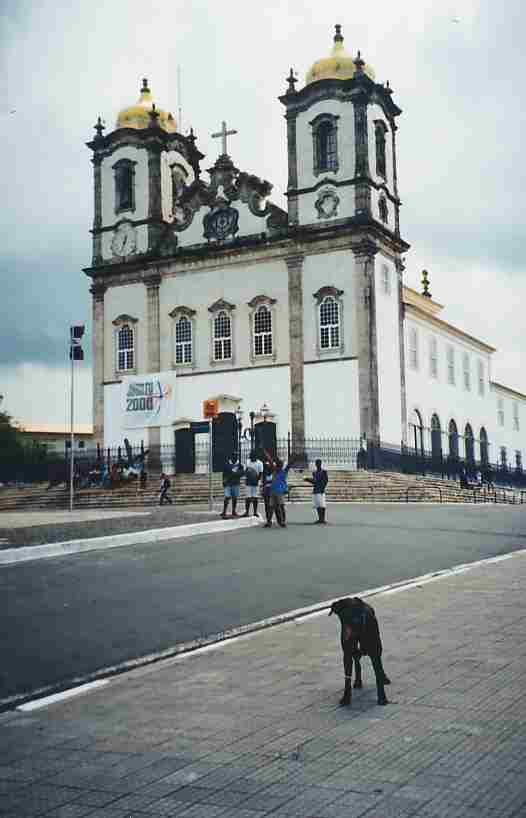 Don't miss visiting:
"Mercado Modelo" - place where people sell crafts and they also play capoeira.
Lacerda Elevator - The postcard of Salvador.
Castro Alves Square - it's at Pillory's foot. During the carnival, it gets really crowded, because the music floats meet there.
"Pelourinho" (Pillory) - Visit it at night. Bars, museums, lodgings and churches.
Abaeté Pond - it has beaches with white sand.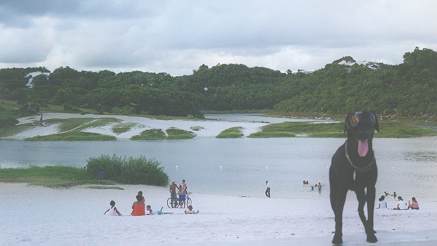 Tips by GUSTAVO VIVACQUA
1. If you are not by car, visit the beaches by bus. You can take them at Mercado Modelo or at the Castro Alves Square and travel the whole border. Some have air conditioning.
2. The night is good in some nightclubs like "Rock in Rio Café", Aqueóps, and Manatee. Thursday there is a lot reggae at the pillory.
3. It's possible to surf at several beaches, mainly at Stella Maris and Hallelujah.
4. Sandboarding is also possible on the dunes of the city.
5. Besides the well-known "acarajé", try a thing called "bolinho de estudante" (student's cake).
6 "dear Dog, when you come back to Slavador, don't miss: * Visiting the Museum of Sacred Art that besides being beautiful, it offers a wonderful view of "Todos os Santos" (All Saints) Bay * Having an ice cream at Ribeira *Going to Humaitá tip (EXTRAORDINARY) * Visiting Carlos Costa Pinto Museum (at Vitória's corridor) to get to know and to understand what are "balangandãs" * Visiting the Afro-Brazilian and the Archeology museums at the Pillory * Going the a Candomblé party Etc, Etc and Etc." tip from Deise
7. "on Sundays of summer, you must go to gheto to watch Timbalada, the best chicks are there. "Aeroclube" is another point of Salvador, nice chicks and many tourists, several kinds of bars and restaurants. The Pillory has parties every day of the week. If you have the time, make a bost trip on All Saints' Bay. When you come to Salvador, try to watch the rehearsals and shows of the regional bands. There are many places to dive, such as Barra's Port and Lighthouse. There is also "abará" that is the boiled "acarajé" and the famous coconut sweet. Visit "Praça da Sé", "Terreiro de Jesus" and spend the night at the Pillory. A hug". tip from Lucildo Magalhães
8. "Hi, Haxi! I went to Salvador and the city is beautiful, mainly Itapuã and Flamengo Beach. But people must take care, there are many robberies there! At Barra beach, they steal in front of the policemen, and the cops even tell you not to stay there at night! It is a shem, because the city has a lot to offer... " tip from Henrique
9. "To the young people who want to get to know the beaches of Salvador: Hallelujah (it reminds the small Pepê's Beach in Rio), "Vilas do Atlantico", "Estela Maris" and Flamengo are the best ones to see beautiful people. To surf, prefer Jaguaribe or "Terceira Ponte" Beaches. The night great at Aeroclube (several bars and nightclubs like Rock in Rio and Café Cancún) or at Fashion Club". tip from Márcio Brito
10. "Save at least one day and one night to stay at Praia do Forte that, besides the beautiful "Tamar Project", it also has a very pleasant town with several lodgings, restaurants and stores. Don't miss trying a good shrimp stew at one of the huts on the edge of the beach, behind the town. Salvador: it's possible to visit al the tourist points by bus that travel along the whole border, Mercado Modelo and Ribeira. On Mondays, the Restaurant Casquinha de Siri, at Piatã, has a very lively show with Beto Jamaica's band. Don't miss having a beer at the Barravento Restaurant, at Barra do Forte, that has a wonderful view. At Rio Vermelho Neighborhood there is a simple but pleasant and very typical meeting point, Dinha's Acarajé ". tip from Geyse Ribeiro Assunção
11. "If you visit the city on the carnival, get to know "Festival de Verão" (Summer Festival).... it is VERY GOOD!!! Mainly on the weekdays, when the best bands go and the people are more beautiful. (EXTRAORDINARY!) Also pay attention to the rehearsals of the famous bands that happen during the whole week, in the nightclubs or specific places. Oh! Another thing that is worth to remind is that Salvador is not that dangerous... Go have an ice cream at Cubana, close to the City hall, Lacerda Elevator. Enjoy my beautiful city!!! Kisses." tip from Marianna Cataldi
CLICK HERE to send your tip
CLICK HERE TO SEE OTHER BRAZILIAN DESTINATIONS