\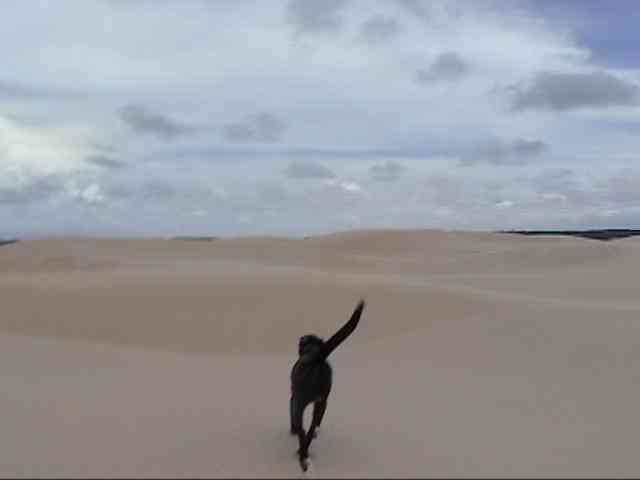 The area close to "Preguišas" River's final passage is known as "Pequenos Lenšˇis" (Small Sheets). Dunes of the size of a 3 floor building and such beautiful and wild ponds, like the ones of the National Park, are part of the local landscape.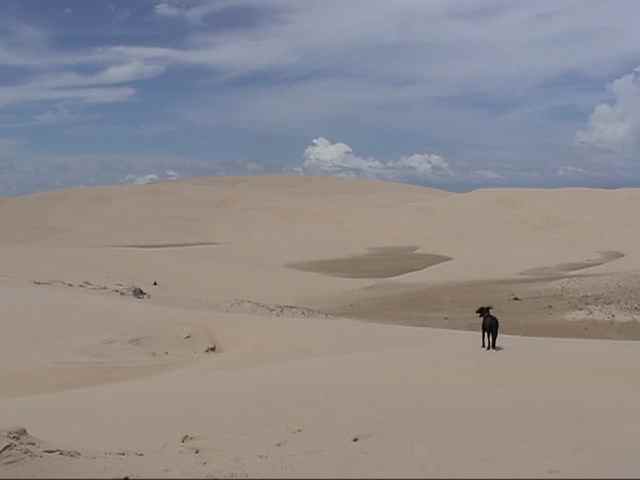 To the left of the river, it is "Lenšˇis" National Park, destiny of most of the visitors. To the right, it is the area known as Small Sheets, a ten times smaller area, but with dunes equally beautiful, that extend until the margins of the river. It is the case of places like Vassouras, Espadarte, AlasŃo and "Morro do Boi"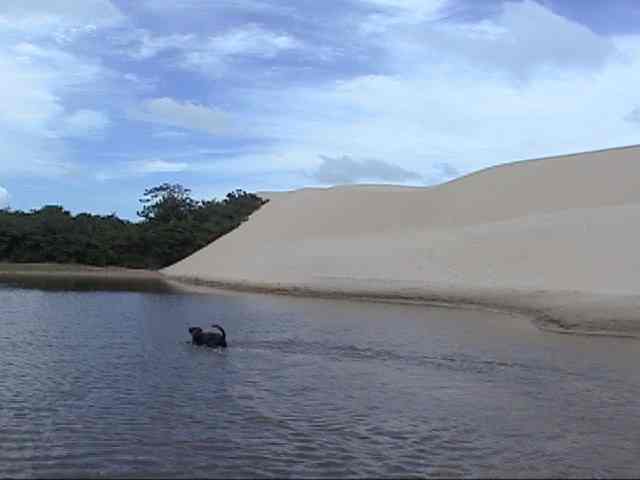 "And it has lakes to freshen up... "
In one year, the dunes can move up to 20 meters of distance, drawn by the winds. Inside of the Park, the dunes are much higher.
Small temporary ponds, of red, black or transparent green waters, spread shapes amid the white dunes, some with aquatic vegetation, another surrounded by plants typical from seashore or intermixed by vegetation "oasis", with some sandbank species and savanna.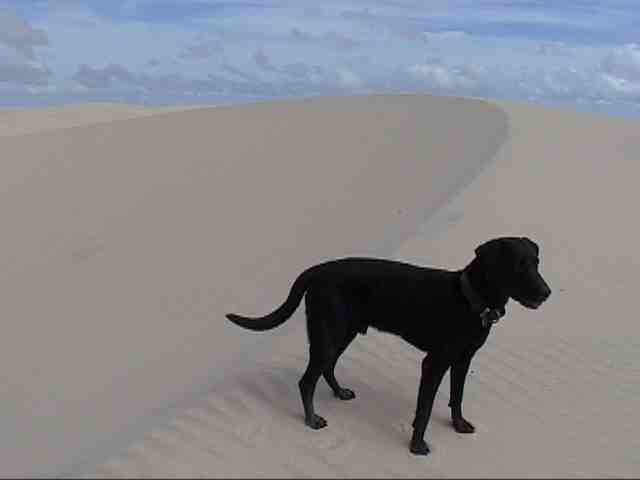 CaburÚ Village - In this beach, the fishermen set up huts in the rainy period to fish. It is ideal to camp, because it is by Preguišas River. Good option to stay overnight.
Preguišas River - it is the river that crosses Lenšˇis. That name is due to the calmness of its waters that flows out in Atins, a great fishermen colony.
Mandacaru Lighthouse - it is possible to see the dunes bordering the sea of MaranhŃo. It is located in the city of Mandacaru, on the limits of the park.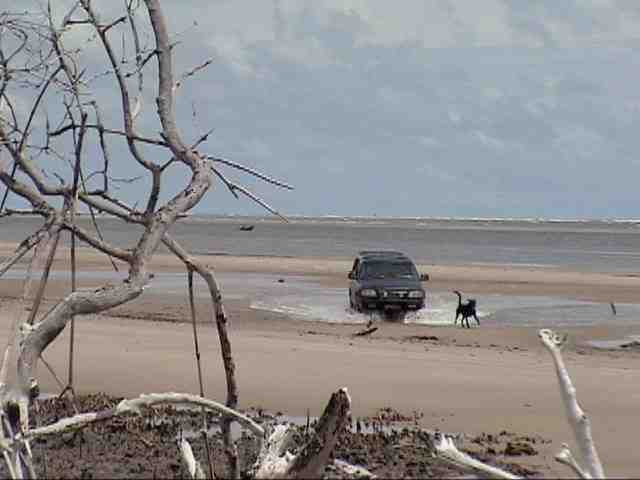 Tips by GUSTAVO VIVACQUA
1. Take the vaccine against yellow fever with 10 days of antecedence.
2. An extraordinary option is the view from Mandacar˙ Lighthouse.
3. Go for a trip in a motorboat called "Voadeira" Preguišas River.
4. Remember that the place is a desert. Take water, dark glasses because the sand is very white, besides suntan lotion because you will fry like an egg.
5. Despite of being a desert, the walks are not unpleasant. There are many refreshing lakes along the walks.
6. The best time to visit the region is on the rainy period, from December to July, when the ponds are fuller and less hot.
7. It is allowed to camp at the beaches that border Preguišas River. Camp at the river's margins, close to the houses of the fishermen, in Vassouras, AlazŃo, Espadarte, and "Morro do Boi".
8. Don't miss visiting the great Lenšˇis Maranhenses.
9. If you want a "better" infrastructure, stay in "Paulino Neves" from where you can go to Pequenos Lenšˇis walking and besides, there are guides and support for tourists.
10. CaburÚ is in Peuqenos Lenšˇis. It is a village, with some lodgings and without electric power: the available light comes from generators htat are turned on from the 6pm to the 10pm. Therefore, it is advisable to take a flashlight
CLICK HERE to send your tip
CLICK HERE TO SEE OTHER BRAZILIAN DESTINATIONS