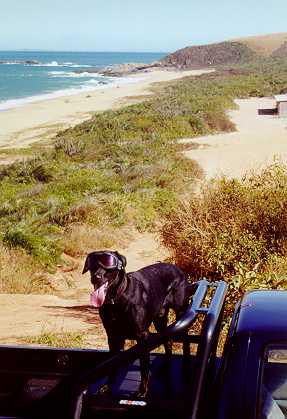 The first settlers arrived here around 1538 and they decided it would be called "Vila da Rainha" (Queen's Town). These people had their earnings from the sugarcane plantation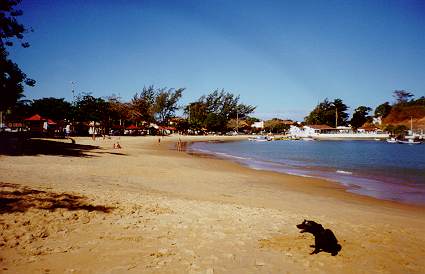 "It's so nice to tan here."
But they had many bad times with Goitacazes Indians, because these natives were tough and once in a while they decided to beat the invaders, who had to scape from there to save their lives.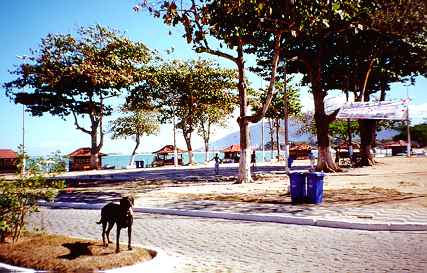 "There are many kiosks here... "
In the 18th century, a Italian priest who brought the Indians to the catolicism. After that, everybody became friend and Portuguese and Indians could go to the beach to swim together....
"And also many nice bays."
"And also many nice bays."
The main attractions are the beaches, rivers and ponds of the area:
"Abricó" (Apricot) or "Brava" (Rough) Beach - it is the beach of who likes to fish.
"das Tartarugas" (Turtles') Beach - good calm sea to swim. It has a stone that looks like a turtle, then the name. It has good infrastructure and it receives many tourists. About 150 meters of extension.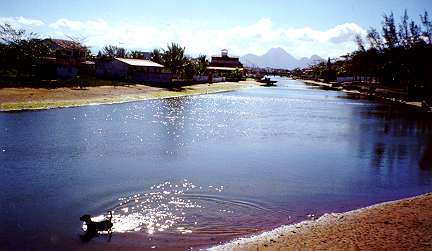 "A river bathe after the beach is awesome."
"do Bosque" (Wood) Beach - it a wood that borders the beach, for that it's got this name. It is one of the most full of people.
Rio das Ostras or Downtown Beach - it has almost 2 km of extension. It is the main beach of Rio das Ostras and where is the headquarters of the Iate Clube of the city. There are several boats anchored there. There it is possible to rent pedalo boats, banana-ski, besides the option of a schooner trip by the border.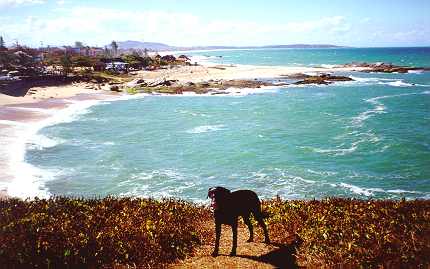 "What nice view, isn't it?! "
"do Cemitério" (Cemetery's) Beach - According to the legend, it has hot waters. Good waters for a sea bathe. It shelters a fishermen colony and a fish market. The cemetery is on the south tip.
Costazul Beach - Very sought by the surfers, because it has waves. There are some natural swimming pools. People play volleyball and soccer on the sand. Coca-Cola Pond is near it.
"Remanso" Beach - it is the favorite of the fishermen, who arrive with their "tarrafas", reels and snorkels for the underwater fishing.
"They park the boats anywhere... "
Joana Beach - they have boats that can be rented in the kiosks. Without waves and good for bathes and children.
"Virgem" (Virgin) beach - little frequented, because it has open and rough sea. It has a horseshoe shape and it is surrounded by hills.
"Areias Negras" (Black Sands') Beach - it has high monazitic sand, that's why it is dark.
"Mar do Norte" (North Sea) Beach - on this beach, several rocks form small bays.
"Coca-Cola" (Coke) Pond - due to the high iodine concentration and of salts the water is as black as Coke.
"Rio das Ostras" (Oysters' River) - navigable for small boats and some people also fish over there.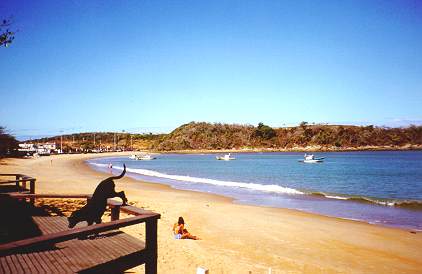 Tips by GUSTAVO VIVACQUA
1. It's possible to surf at Costa Azul beach, but nothing special.
2. Visit Búzios, in case the nightlife is low.
3. For who is keen on fishing: "Lage de Fora", "Ilha do Costa", "Ilha das Pombas", "Lage do Meio" and "Ilha Trinta Réis".
4. If you like craft, go to "Praça do Artesão" (Artisan's Square) that is a permanent craft fair.
5. "Hello people...... .Rio das Ostras is great. I know the city for 10 years now. Today it is a mini Cabo Frio. There are always shows on the New Year's Eve. In the Carnival, it gets full. The beaches are really cool. Visit Tocolândia. A mini hopping center with omly artisans. The square of the whale that is next to it. There is a sculpture of jubarte whale, that surround the sea of Rio das Ostras sometimes. Costa Azul beach is ideal for surfing. Downtown beach is full, it is proper for families. Schooner trips? Only at downtown beach. Take advantage and get to know Barra de São João. Barra de São João is district of Casimiro de Abreu, that is nearby also. And it was there where the poet Casimiro de Abreu was born and died. His grave and of his father's is behind the church, on downtown. Go to Casimiro to practice sports like rafting or duck. Kisses" tip from Lanuza Madruga from Volta Redonda
CLICK HERE to send your tip
CLICK HERE TO SEE OTHER BRAZILIAN DESTINATIONS