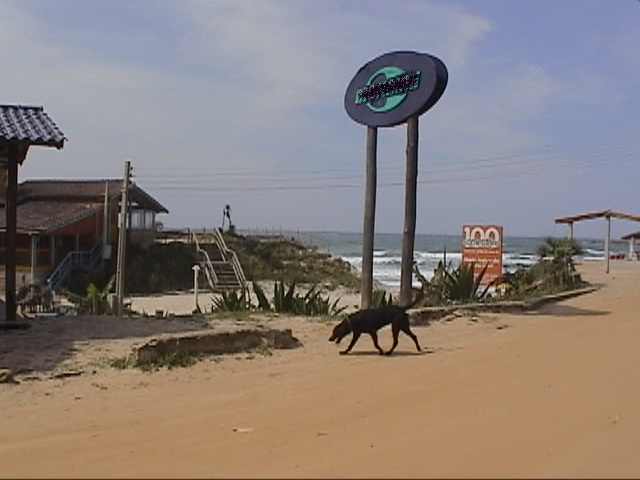 Rosa is at approximately 70km to the south of Florianópolis, between Garopaba and Imbituba. The access is by BR 101, entering on the interchange of Garopaba, and later turning right at "Praia do Rosa" General Road. Just follow the signs.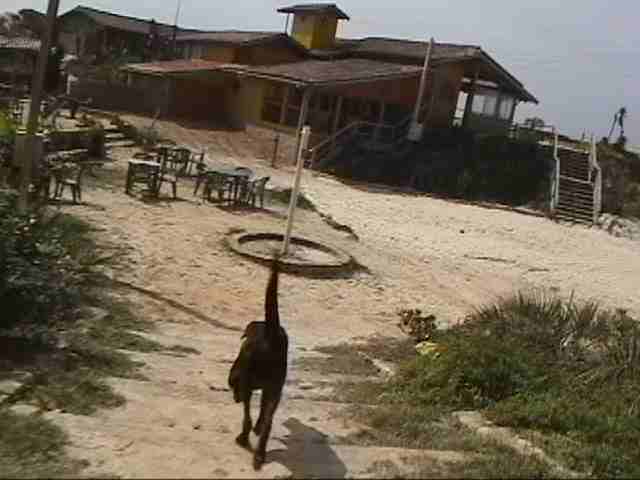 "The beach has a good infrastructure."
This beach is always mentioned on newspapers and specialized magazines as one of the most beautiful of the country. The visitors are youths from the south and southeast that like to surf and do other action sports besides the heavy night.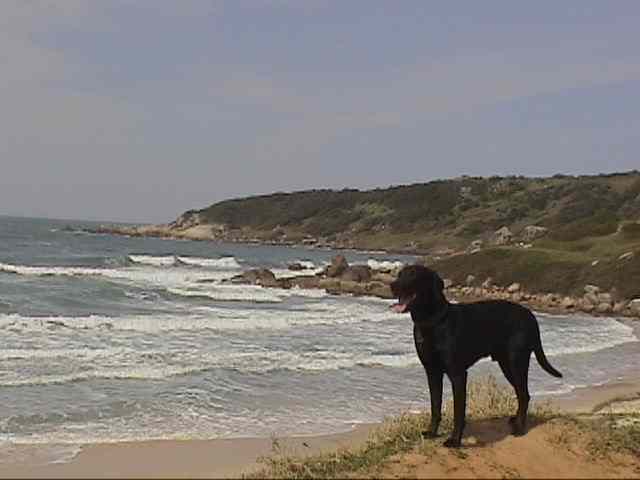 "Praia do Rosa" (Rose Beach) is between "Serra do Mar" (Sea Mountains) and the sea and it has dunes, islands and ponds, one of fresh water and another of marine water. It is near Garopaba, Silveira, Ferrugem, Barra and Ibiraquera Pond.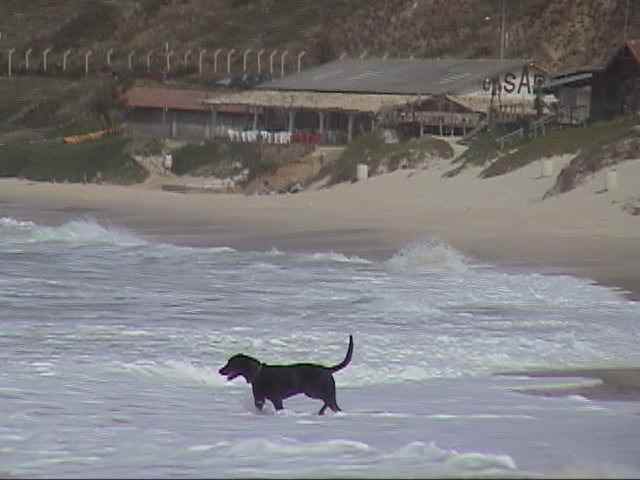 "Isn't this sea great?... "
This beach, as usual, was discovered by the hippie surfers from the 70's and since then most of the visitors are surfers, so here it go some good tips: good waves to the north (Silveira, Ferrugem and Guarda) and to the south (Ibiraquera and Farol de Santa Marta)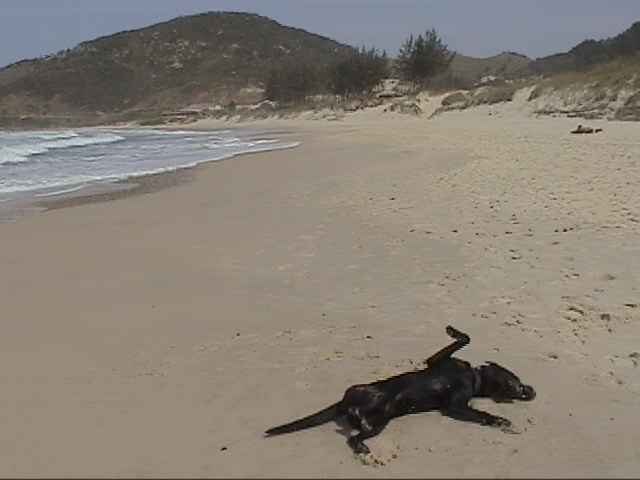 "Ohhhh, all this beauty is killing me!!!! "
During the months of August and September Franca whales appear in the region, and they chose Rose Beach as one of the only places of the world to reproduce and to breastfeed their nestlings. It is an extraordinary show.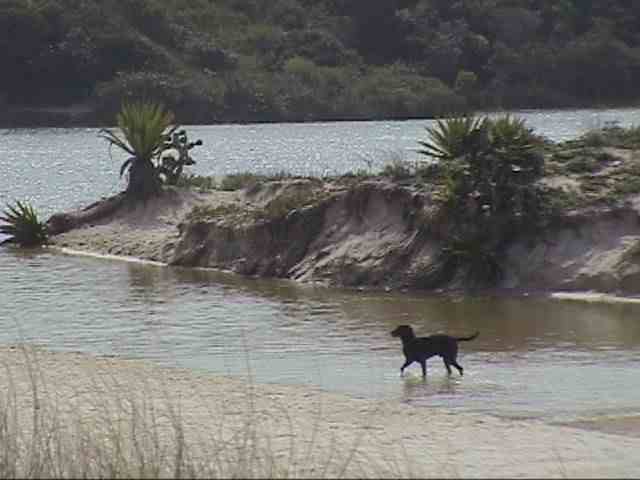 Rosa offers a complete structure of restaurants and lodgings. The restaurants are in most of seafood. Fish, squids, crabs, shrimps and shellfishes are the most common options.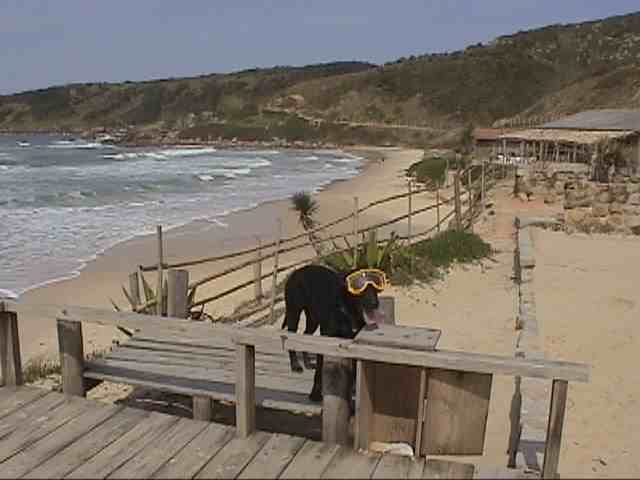 Table of Distances

Florianópolis

70 Km

Porto Alegre

400 Km

Curitiba

350 Km

São Paulo

800 Km

Rio de Janeiro

1200 Km

Montevideo

1360 Km

Buenos Aires

1470 Km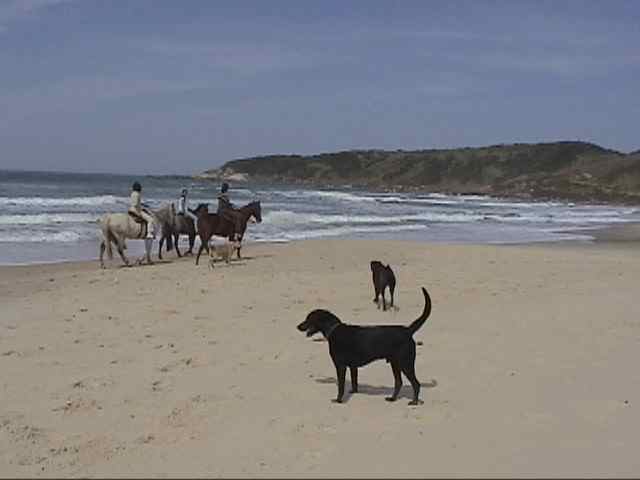 "You can ride on horses along the beach."
Tips by GUSTAVO VIVACQUA
1. The beach has great waves.
2. If you like windsurfing or kitesurfing, go to the nearby beach... Ibiraquera.
3. The New Year's Eve in Rosa is awesome and is considered one of the best of Brazil. It is good mess.
4. An extraordinary trip is the "whale-watching". You go on a boat to see the "Franca" whales at the months of August and September.
5. Do you want a lot of waves? Go in July, but get ready to face a very cold water.
6. During the New Year's Eve, park your car somewhere and forget that it exists. The roads get terribly full and a lot of people spend this night stuck inside the car.
7. Tip for who needs nightlife: Ferrugem is also a nice option.
8. "You can camp on top of the hills, at the edge of the beach... your tent will be all wet in the morning from the waves that hit the stones all night... you wake up with a great view of the sunrise... there is a waterspout where you can wash yourself and brush your teeth, ... " tip from Marcelo Menezes - Curitiba-PR
9. "A good tip for house renting is one that is halfway from Rose Beach and Barra de Ibiraquera. The place is very nice. 368, Paraiso do Luz street, tel. (48) 355-6049. Speak with d. Maria Nascimento. Very calm place, surrounded by green and silence. Paradise inside of the paradise. It has two rooms (one with double bed; other with double bed also and a bunk bed; There is also an extra mattress). There you find the whole structure of a furnished house (TV, refrigerator, stove, kitchen, clothes line, covered garage, bed linen...). And the price of that house that holds up to seven people? R$ 10 for each person when it is not lingering holiday. It is also cheap for the New Year's Eve, Holy Week, Christmas etc. For the Carnival, for instance, it costs R$ 1.000,00 per week (from Friday to Friday) for up to seven people. This was the best place I found in Rosa. To find the place: leave BR-101 towards Imbituba and take the interchange that takes to Garopaba/Praia do Rosa. You'll get to a paved road. Seek the dirt street (to the right) that takes to Praia do Rose through the bridge. Go to the street of "Pousada do Grow" and of "Mercado do Trevo" (that is beside a square and a church). " tip from Helio Ponciano
CLICK HERE to send your tip
CLICK HERE TO SEE OTHER BRAZILIAN DESTINATIONS