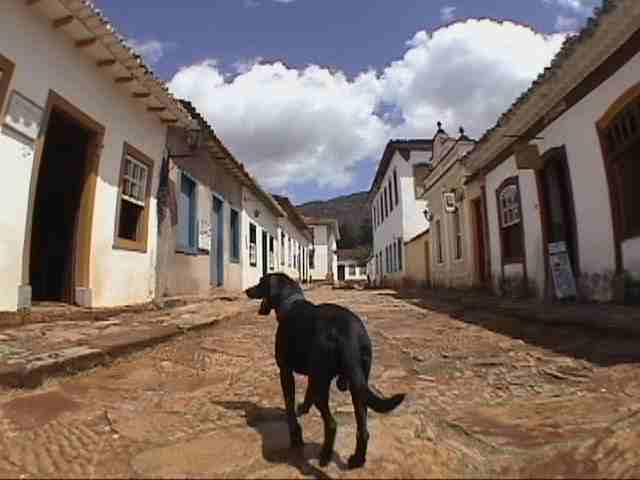 "The houses here are old."
This nice village is at approximately 135 km on a straight line from the city of Belo Horizonte. It is in the same style of Ouro Preto or Paraty (technically it is called rococo style). This name was given to the city in honor to our fellow from the History books. That poor buddy who was beheaded, quartered and his head put on a post at a public square in the old city of "Vila Rica" (Rich Town). That guy must have gone directly to heaven...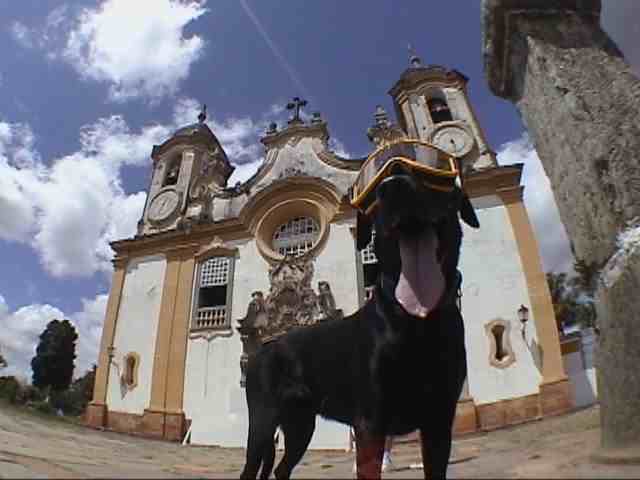 "This is "Sto Antonio" Mother church. "
The most important architectural work of Tiradentes is Santo Antonio Mother church. It was built in the rococo style. It is covered with gold and it has paintings of the 18th century.
São José Fountain was built in blued stone soap, in 1749. It has three guys spilling water that represent Love, the Fortune and the Health. There is this legend that who drinks this water, will return to the city. This water comes from the "Mãe d'Água" Forest, located at the base of São José Mountains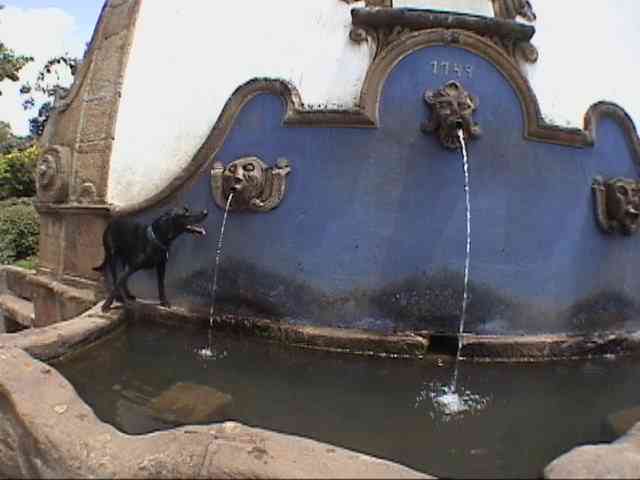 "I will try drink this water from São José Fountain."
"Arraial do Bichinho" (Bug Village)
Nowadays it is called Veloso Vitoriano. It is a small village, where it is "Nossa Senhora da Penha de França" church. The chapel is from 1737, and it was rebuilt in the end of the 17th century. In Arraial there are some craft workshops that produce works on wood, machê paper, paintings, pieces of furniture, iron, etc, of excellent quality.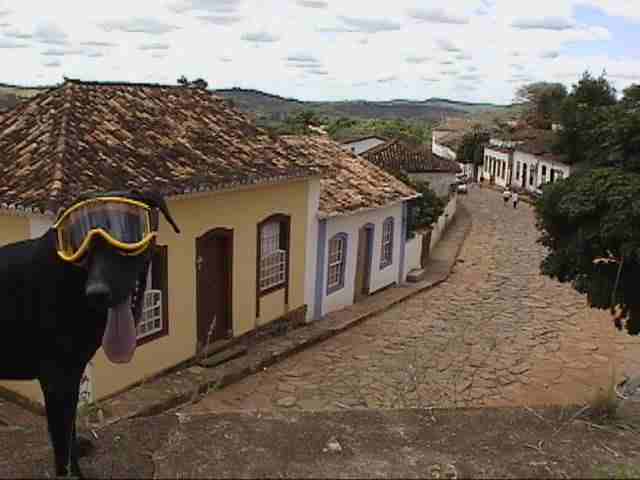 "It is like a trip to the past."
"Águas Santas" (Holy Waters)
An excellent walk on the Mountains, starting at Pacú, crossing the "Mangue" (Swamp) stream, where it begins a pavement built around 1893/94. On the way, right after the Swamp, it's possible to see the old dam, used to wash of gold.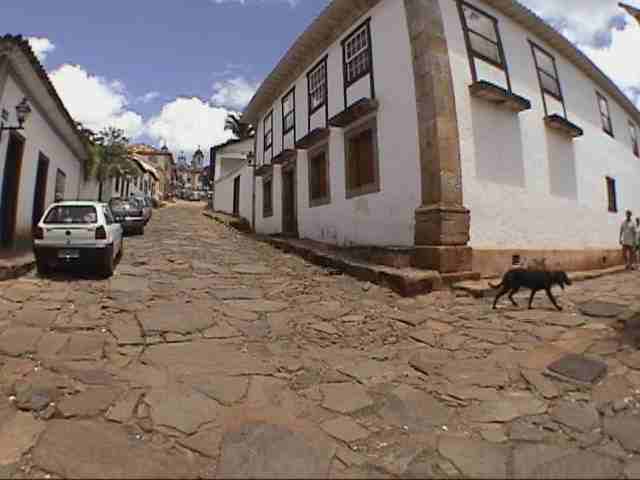 Maria Fumaça
The Train - Maria Fumaça was inaugurated by D. Pedro II, in 1881 and it still works, tying the cities of Tiradentes and São João del-Rei. It travels regularly on Fridays, Saturdays, sundays and Holidays.
From São João del-Rei: 10 and 14 o'clock.
Exit of Tiradentes: 13 and 17 o'clock.
Tips by GUSTAVO VIVACQUA
1. The nicest leisure options of the city are: Águas Santas, "Carteiro" (Postman), "Labirinto" (Maze) Grotto, "Mangue" (Swamp) and "Porto" (Port) Waterfalls, São José Mountain, "Mãe DÁgua" Forest
2. In holiday times, the waterfalls of the city get really full. There is not enough space for everybody.
3. Two days are enough to get to know the whole city.
4. There are nice restaurants in the city. It is a good option for who is in good company.
5. If you want to go to São João del-Rei, use the Steam train (Maria-Fumaça) for it.
6. For the bikers: a Harley Davidson meeting is acomplished in June.
7. On dirt road between São João Del Rey and Tiradentes there is a nice place, with some waterfalls and natural swimming pools. I don't remember the name of the place, but you will see it from the road. You have to go up a hill, but it is worthwhile." tip from Cachorrão MotoMorfose Moto Clube, Carlos Carlos - SP
8. "Hi... I Recommend this wonderful place for who likes to enjoy a weekend with the girlfriend or boyfriend. It has about 130 lodgings in the city. I went at Easter Holiday 2002 and I loved it. It is a great trip. My tip is to go to São João Del Rey first and to visit "São Francisco de Assis" Church and "Pelourinho" (Pillory). Behind the Church, there is a cemetery where our former-president Tancredo Neves is buried. Then it is nice to go by Steam train to Tiradentes. You'd better check the schedules of the Steam train. The trip takes 35 minutes. Don't miss doing it... "tip from Luis Fernando B. Martins - Santos Dumont/MG
9. "I've been at Carnival in Tiradentes in 2001. What a wonderful place... A lot of chicks go there at Carnival, pretty ones. I stayed in São João Del Rey, that is very nice too, but it receives a lot of people at Carnival, and some eccentric people. Another tip is a club in the city, it is on the road that takes to Tiradentes. You pay about R$4,00 and can use swimming pool and play soccer, make barbecue and see the girls on bikini! A hug and keep this work!!!! " tip from Fabrizzio Sal
CLICK HERE to send your tip
CLICK HERE TO SEE OTHER BRAZILIAN DESTINATIONS