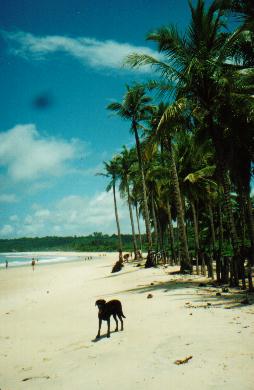 This is the life I've ever dreamed about... "
This place is 25 km to the south of Porto Seguro. A few years ago it was very difficult to get to there, but they asphalted the highway, and now it is easy. It has already been considered a hippie land, but nowadays, thanks to the easy access and several nice views, it gets really crowded.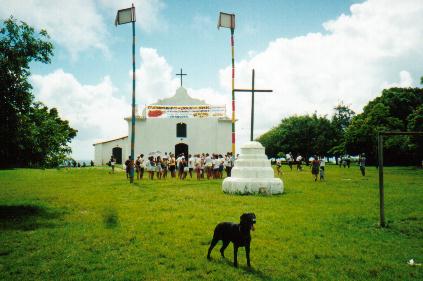 "There is a nice view from this Church."
In the 16th century the Portuguese arrived here and (of course)... built a Church ... I think those Jesuits should have somebody for finding a point with a great view where would be built a church.
Have you noticed how many churches from the 16th century are built in places with great viewa? Yeah, it's the same in Trancoso, the Church has an awesome view.
"There are some cool bridges to get to the beach."
In front of that church, that is called São João, it is the "square", that is the mixture of soccer field, square, area for events, pasture and passage. It is there where the nightlife takes place, and where exists several good bars and restaurants. At night the Square is illuminated by candles, becoming a place difficult to forget.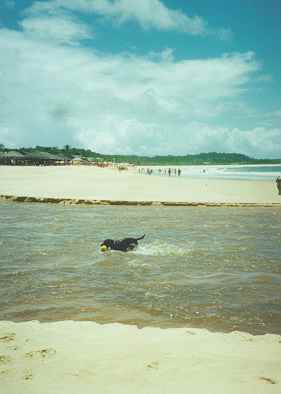 "There is a river that flows out on the beach... "
The houses in the Square (it should be called rectangle, because is rectangular) are all colored. People say that they have different colors because they don't use numbers. In other words, a resident asks the other resident "Hey man, where do you live? " , the other says "I live in the yellow house and you? "; "I live in the red one". Thats their explanation.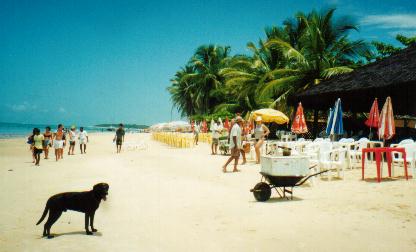 "There is a good infrastructure of kiosks in front of the beach."
Beaches:
"Barra do Rio dos Frades" (Friars river's Mouth): weak waves, coconut trees and swamps.
Itaquena Tip: it has some natural swimming pools
Itaporoca: deserted beach, with natural swimming pools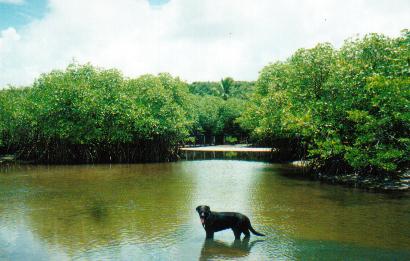 Barra River Beach : it has lakes and cliffs. It is divided by a river.
"Praia dos Nativos" (Beach of the Natives): it has parking and you can rent a horse to ride.
Trancoso: it is extensive, with a river running parallel to the beach. The passage to the left is the beach of the Natives and to the right is "Coqueiral" (Coconut tree platation).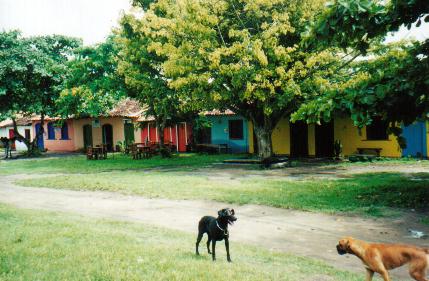 "Hey, buddy, is this the Square? "
Tips by GUSTAVO VIVACQUA
1. Leave your trousers home. Oh, the tennis shoes also. People only walk barefoot and with shorts.
2. There are cell phone signal and public phones.
3. Visit Arraial D'Ajuda at night.
4. If you have the time, visit Caraíva, that is close.
5. Go for a stroll along the beach. You can also rent a horse.
6. "Don't miss going to the observatory. Buy a memory from our hippies friend. Hehheh" tip from Juliana
7. "In the backs of the church of Trancoso there is a cool shortcut to get to the beach, however, it demands mountaineer's spirit. Venture, because it is very nice." tip from Arthur Correia
8. "Leaving from `` Trancoso´´ , go by car or taxi to `` Praia do Espelho´´ (Mirror Beach), prefer the full moon time and go very early for the low tide, so it will be possible to see the reefs with all its marine life, rught after the sand. The beach is huge and paradisiacal. Prefer the days far from holidays and, if you're lucky, the beach will be all yours (there is always somewhere to sip a cold beer and to eat a fresh fish). "tip from Cilene Marchi and Marcelo Pietrafeza - Serra Negra - SP.
9. "Walk along the beaches, climb the hills. Enjoy the zen night, go on foot to Arraial, visit Mirror Beach, considered the third most beautiful beach of Brazil that is nearby, and don't forget to stay at least three days in Caraiva...hugs... " tip from Andre Catelan. São José do Rio Preto SP
CLICK HERE to send your tip
CLICK HERE TO SEE OTHER BRAZILIAN DESTINATIONS