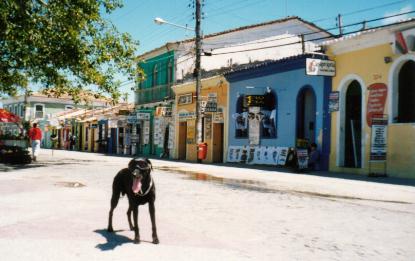 "This is "Passarela do Álcool" (Alcohol Mall) where the bars are all colored."
About 500 years ago, the first tourists arrived at this place. He was called Pedro Álvares Cabral and his guys, coming from Portugal. He stopped there because it was a cool to anchor his caravel and decided to disembark. After that, my brother, a lot people has already visited Porto Seguro...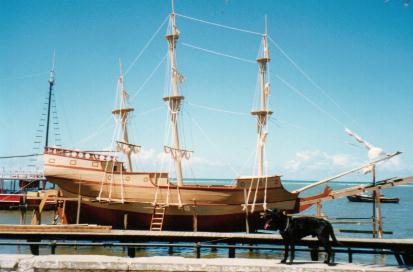 "The guys built some caravels for Brazil's 500 years party. "
Despite the time that has passed, and so much people have come to this place, Porto Seguro is well preserved and it still has a lot of good things to be seen. The sea water is very clean and it is possible to make boat trips and very cool dives. The city has a great infrastructure and has almost everything you'd need.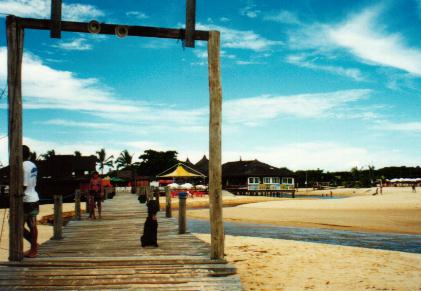 "At the beach, the parties last until night."
The night begins in a place called "Passarela do Álcool". There are a lot of bars there with live music. It's got everything, good music, terrible music, food, a lot of drinks, several huts selling the most strange drinks. Besides the bars, there are also several restaurants for all pockets and tastes.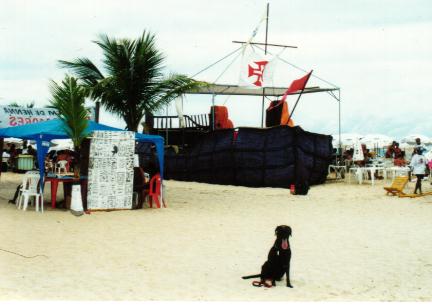 "At the beach, the huts have a great infrastructure! "
After people have drunk a lot, the night continues at the beach huts, where luaus and parties take place only finish in the morning. Buddy, those beach huts are huge.
Attractions:
Mundaí Beach: good beach for diving. Located at 4 km from the city, it has 3 km of extension and it is bordered by coconut trees.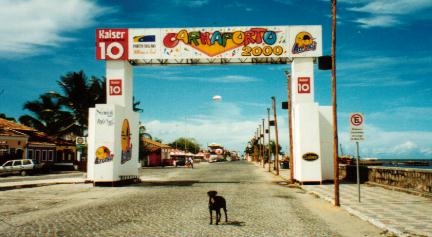 "The music floats go by here... "
Taperapuã Beach: it has calm and clean waters. It is the most frequented, because it has the best beach huts. At 7 km from the city.
Cruise Beach: urban beach, it has about 1 km of extension, with dark waters due toBuranhem river, that flows out there. It is the less frequented of the city.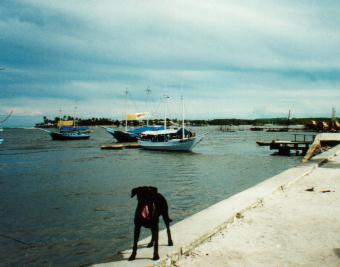 Curuípe Beach: it is a bay with reefs. There is a cliff and it is at 3 km from the city. When the tide is low São Francisco river forms natural swimming pools.
Itacimirim Beach: it has about 1 km of extension and it is sinuous. 3,5 km from the city.
"Praia do Rio dos Mangues" (Swamps' River Beach): The main attraction is Swamps River. It is at 9 km from the city.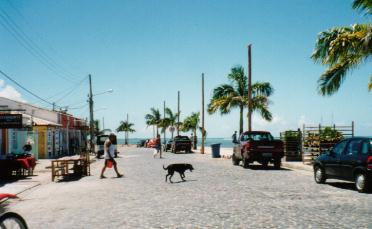 "I walked for the city... "
"Praia de Ponta Grande" (Big Tip Beach): it has some waves, and some reefs in front of the beach. It is one of the most beautiful beaches.
"Recife de Fora" (Outside Reef): it is natural swimming pool located at 5 miles, with 6 meters of average depth. It has a great biological diversity and reminds the sea fauna found in Abrolhos, that is not too far away from there. It is a good trip also.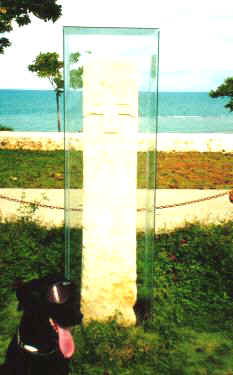 "There are nice view from the historical center."
"Coroa Alta" (High Crown): it is a coral formation, that, on the low tide, natural swimming pools are formed. There is a sandbank that actually are sea debris formed by millions of years.
Vera Cruz Station: this is the largest private reservation of Atlantic forest of the Northeast and it has one of the richest ecosystems of the world. It has some nice suspension bridges.
Tips by GUSTAVO VIVACQUA
1. Cell phones work well and there are many public phones.
2. Make a boat and visit Abrolhos, that it is not far.
3. Also Visit Arraial D'Ajuda, Trancoso and, if you have the time, Caraíva.
4. A heavy night takes place at the beach huts, like Barramares and others.
5. If you want to surf, the best waves are in Mugiquiçaba and Belmonte, to the north of Cabrália.
6. Visit "Recife de Fora" and the "Coroa Alta".
7. The carnival heats up after "Quarta-feira de cinzas" (Ash Wednesday).
8. "Take advantage to visit "Casa de Lambada Cazouk", located at the Alcohol Mall. They are very good dancers there". tip from Giovania Schneider
9. "You should get to know "Alcatraz" (an awesome nightclub, all in prison style and that is hidden in the middle of the forest. It has 3000 m2 of total area" . tip from Ellen Peixoto
10. "If you want to dance on the beach, go to "Axé Moi", a place full of pretty chicks dancing the whole time. It is very full and very lively!!!! I am Caroline from Rio de Janeiro and I have already been there twice and it was great!!! " tip from Caroline Carvalho - Rio de Janeiro
11. "People, Porto is great in the summer, mainly in the New Year. The city boils and the chicks are great. In the daytime, prefer the beach hut "Axé Moi"... it is so good... the hut is huge!!! the night has several options (according to the week day) but a place that is always good is Parracho, in the neighbor Arraial D'Ajuda. Save a day to visit it in the daytime, as an option. The city is also great in the Carnival and in "Semana do Saco Cheio". Bye!!!!! "tip from Mário Souza
12. "Hello people! Porto Seguro is too good! A good tip on the city is: after the 18:00, dress up and go to PARRACHO, a club that is inside of an island. I have already been 06 times... and this year I'll go again!!! " tip from Marcos Barbosa Rio de Janeiro
CLICK HERE to send your tip
CLICK HERE TO SEE OTHER BRAZILIAN DESTINATIONS