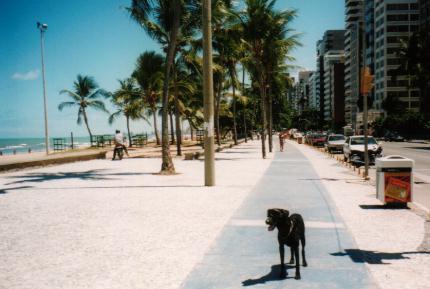 "The sidewalk of "Boa Viagem" (Good Trip) Beach is very nice! "
The Indians lived calmly here, when around the 16th century XVI, the first Portuguese arrived wanting to dominate the place. When began began to adapt to the new situation, in 1630 the Dutchmen arrived at the place.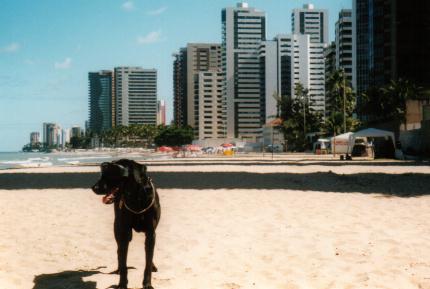 Then you know, it must have been a big fight. Dutch, who were were military or pirates, the pesople from Portugal, the Indians and the Brazilians descending from Portuguese. A group of cultures and languages completely different sharing the same space.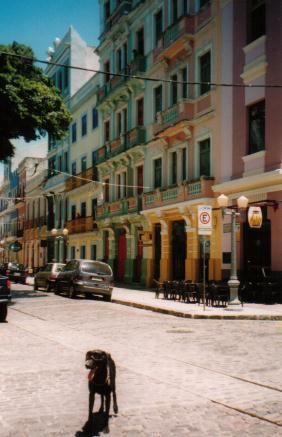 But with the time, everybody got used to that, and the result is a very hospitable people that host any different culture very well, in other words, tourists are welcome.
As the tourists arrive, they go straight to Good Trip Beach. That beach, that always is shown on television, where the surfers' arms and legs serve as snack for sharks.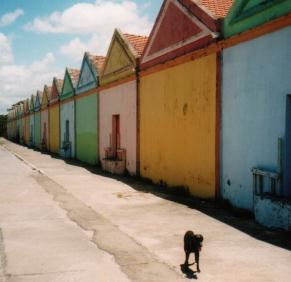 "There are many colored houses here."
It doesn't means you can't swim in this beach. THE FACT IS: the beach is protected by reefs, if you stay between these reefs and the beach, you're safe.
"Where are the sharks? " (on the sign: surfing is not allowed)
The ones who go past the reefs, have great chance of becoming shark food. Wanna surf? Go to Maracaípe, in Porto de Galinhas or to Serrambi that is not far and have good waves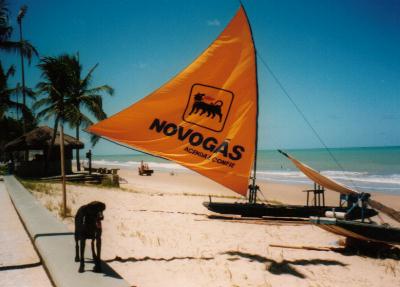 "The local rafts remind those from Maceió"
They say Recife is the Brazilian Venice, because the place is an entangled of rivers, canals, river mouths and interconnected islands. It's a big mess of bridges. It is easy to get lost, if you're an outsider on wheels.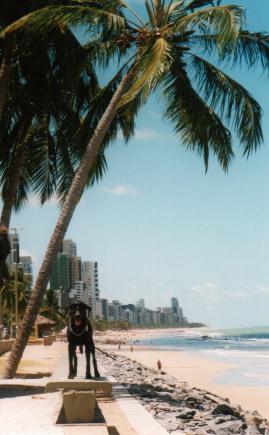 "Don't swim past the reefs."
Cool Tips:
1. Some nightlife happens at Old Recife. It's a night at bars, in a last century city.
2. If you don't like your life, surf. The possibility of being attacked by sharks is very big.
3. If money is not a problem, go to Fernando de Noronha, besides being in the same state, there are regular flights to the island. Recife is the entrance door of Noronha.
4. Visit Porto de Galinhas and Serrambi. They are two good places to the south.
5. There, they mix capoeira with carnival dance, and it's very odd. Check it out.
6. To the north, visit Olinda the city of the carnival dance and of "maracatu" and Maria Farinha island.
7. There are some skateboarding tracks at Good Trip beach. I think the city hall built them to console the surfers. But they are badly projected and they don't have the correct inclination.
8. "Every Sunday, from 14:00 to 22:00, on the neighborhood of Old Recife. At Bom Jesus' Street a fair of crafts, decorations and cultural events from the whole state takes place. " tip from Jojmrs
9. "For who loves the sea and the winds, every year happens the regatta "Recife-Fernando de Noronha" that is awesome, usually at the end of September, beginning of October. It is worthwhile to see the island getting nearer from the boat. In 2000, a Whale came to say goodbye to the sailors... a show." tip from Batatinha - Recife
10. "Hi People! This year I spent the carnival in Pernambuco... I think it was the best carnival of all my Life.... If you're going there for the Carnival, you must enjoy "Galo".... But for who prefers calmer options, check out "Pagode do Didi", on downtown... Another good tip is to enjoy the Maracatus rehearsals. It's cheap and you dance a lot.... I recommend the rehearsal of "Estrela Brilhante do Alto José do Pinho", at Mangabeira. Oh, and one of the most beautiful beaches than I visited was Itapoama beach, that is close Paiva's beach.... It has a paradisiacal landscape and it is very calm... it is before Gaibu... kisses to the whole team from TripToBrazil ... congratulations... " tip from Maria Carolina A. Azevedo
CLICK HERE to send your tip
CLICK HERE TO SEE OTHER BRAZILIAN DESTINATIONS